Which condominiums in the city centre Districts 9,10,11 have good provisions of study rooms to create that productive home office or classroom?
It's May 2021 and Singapore is back to WFH as default mode of work due to a resurgence of community cases from a variant Covid strain. Singapore banks has also announced late in 2020 that flexi-work will become a permanent feature . DBS, has given its 29,000 strong workforce the option to work remotely up to 40 percent of the time, while UOB has given its 26,000 staff the option to work remotely 2 days a week. Looks like banks are now joining tech firms who have previously announced flexible work arrangements.
The straightforward impact of these announcement by the corporates would simply be that the home office could become a permanent feature is homes of white collar workers.
Part V of this series will have us uncover condos in the prime district 9,10,11 (possibly areas where many bankers want to find a home) with good scoring Study Rooms across 1,2,3 bedroom types from completed projects across Singapore. We omitted the 4 bedders as they would probably have enough rooms and floor area for a more versatile WFH setup.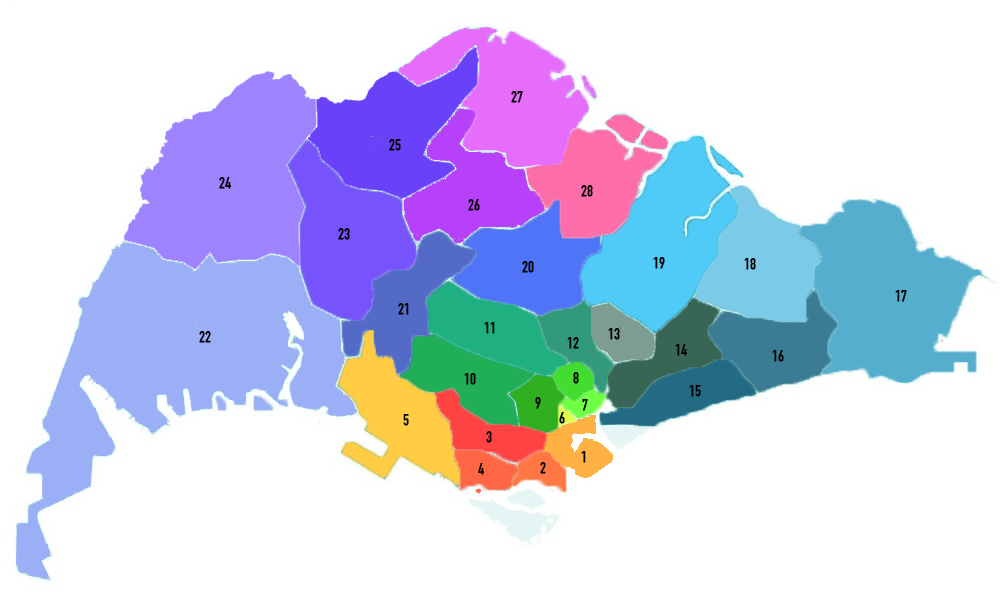 We have set certain criteria for the units to feature in these reports: Firstly, these study rooms must achieve the highest score and have more than 20 numbers of the same unit type. This will increase the chances for them to be available in the market should you be looking for one to cope with the new WFH normal.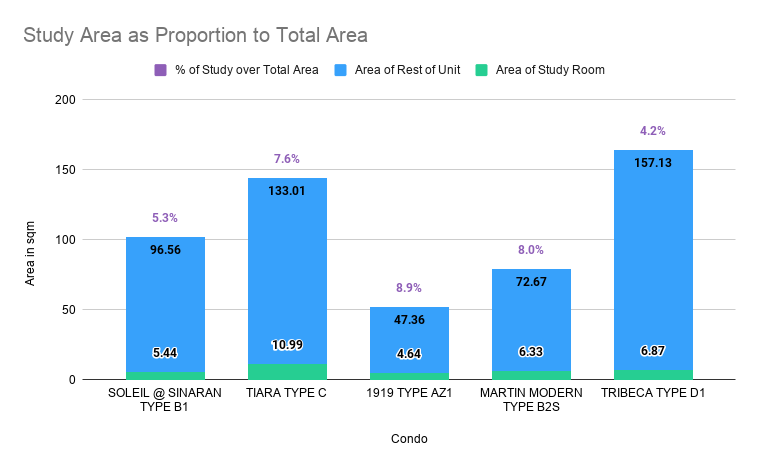 1. Soleil @ Sinaran — Type B1
102sqm. 2 Bedroom & 2 Bathrooms. 43 units. Stack 06 and 09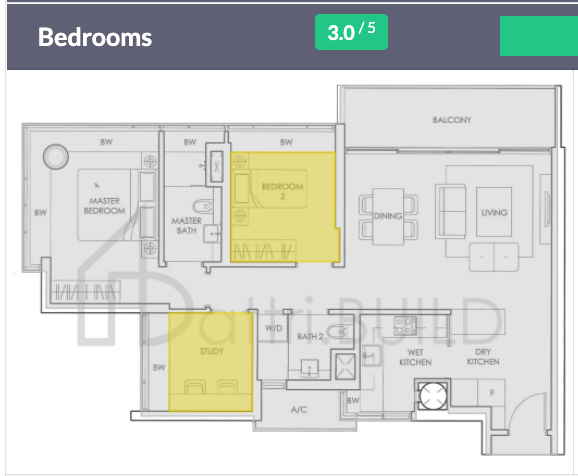 The study room is next to the master bedroom which technically can be converted to a full blown walk in wardrobe if you didn't need to work from home.
The study room is big at at approx Area 5.4sqm (2.5m W x 2.1m L). This is a good size "home office" where you can place a proper work desk with space leftover for a bookshelf or a lounge chair or you can also place a long table facing the wall to accommodate 2 persons working side by side or make use of the bay window to build a reading niche.
View the unit report here.
2. Tiara — Type C
144sqm. 3 Bedroom & 2 Bathrooms. 34 units. Stack 06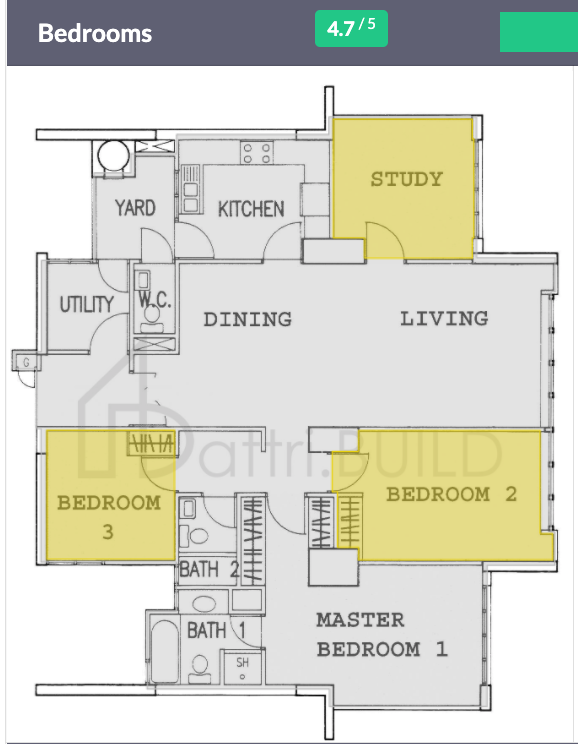 The study room is accessed from the Living room across from the bedroom cluster. This makes for a private and dedicated space, providing a great work-life segregation.
The study room is huge and squarish at at approx Area 11sqm (3.4m W x 3.4m L). This can become a home office where you can comfortably fit 2 to 4 persons, or a 2 person desks with space for a side discussion table and shelving.
View the unit report here.
3. 1919 — Type AZ1
52sqm. 1 Bedroom & 1 Bathroom. 32 units. Stack 4,5,6,7,14,15,16,17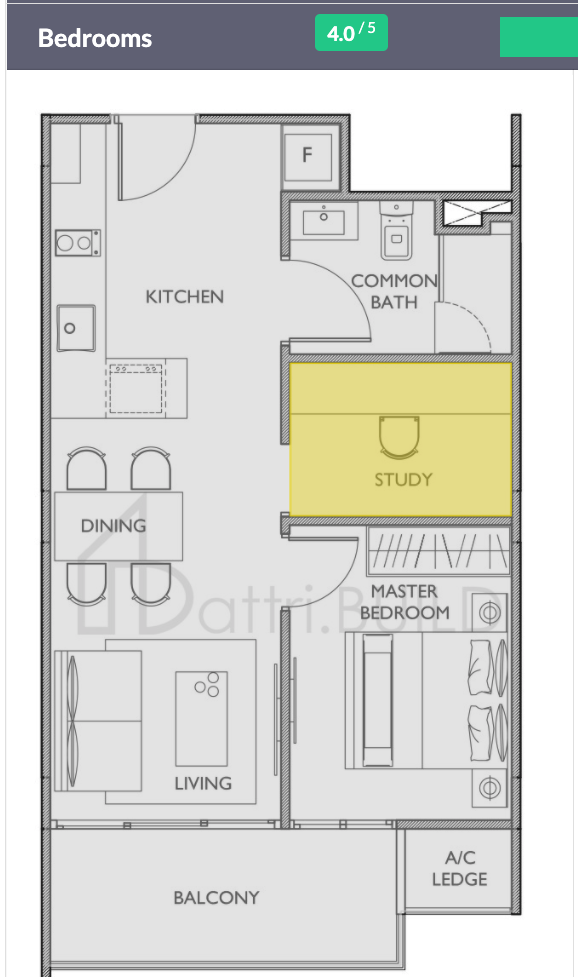 A study room for a 1 bedder provides for good flexibility. It could be a guest room, made into an extended master bedroom,.
The study room takes up an Area of 4.6sqm (1.8m W x 2.6m L), about 9% of the whole floor area. This can fit a long table that can sit 2 side by side and shelving can be designed to be suspended above the desk.
View the unit report here.
4. Martin Modern — Type B2S
79sqm. 2 Bedroom & 2 Bathrooms. 28 units. Stack 13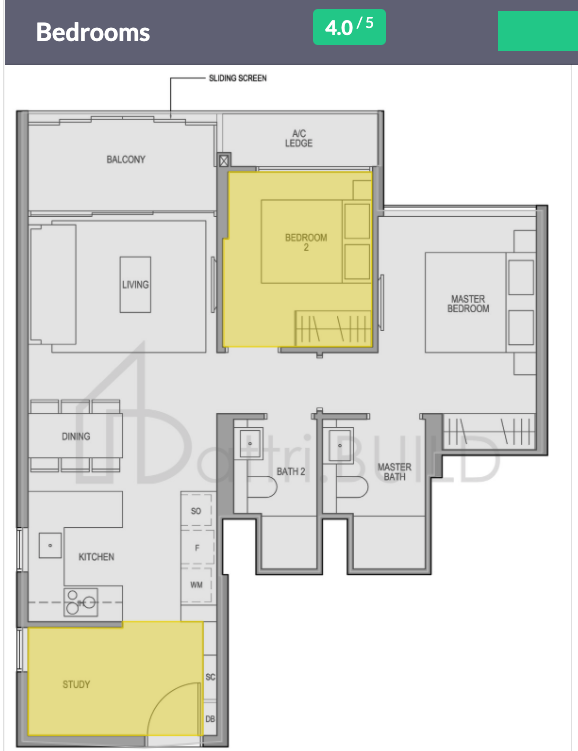 The study room is the first space you enter into from the main door. It could create that segregation between work and life or useful when you have to entertain visitors
The study room takes up an Area of 6.3sqm (1.9m W x 3.2m L), including the walkway towards the kitchen. There is still about 4.3sqm usable space discounting the walkway, enough for a L-shape workstation.
View the unit report here.
5. Tribeca — Type D1
164sqm. 3 Bedroom & 2 Bathrooms. 24 units. Stack 02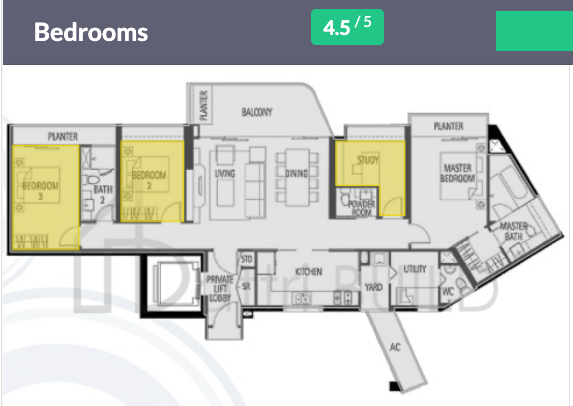 The study room is the paired with the master bedroom on 1 side of the main living/dining space.
The study room takes up an Area of 6.9sqm (1.9m W x 3 L), including an entrance "neck" which might reduce its effective area. The room features a bay window, which can be used to create a reading niche or the workdesk could be designed ontop of the bay window to create more space for shelving etc.
View the unit report here.
Space for WFH
The WFH phenomenon is looking to stay on post-covid. It is perhaps timely to relook at how to reconfigure your existing home to accommodate those work desks or maybe it's time to look for units which have study rooms.
We hope the condominium projects highlighted above can help you zoom into some developments to look at. If you would like a personalised search, you can reach out to us at hello@attribuild.com and we will be glad to assist.
Meanwhile, do stay tuned to this site while we uncover more insights from floorplan design in Singapore.
---
About Attribuild
Attribuild is a proptech start-up based in Singapore.
Attribuild has developed a patented system to analyse and evaluate floor plans to determine a unit's liveability and efficiency. With the Attribuild Score and Attribuild Rank consumers will be able to better decipher floor plans and discover nuances between developments to help them make better real estate decisions.
Do visit www.attribuild.com to find out more and like our Facebook page for updates.