Are bay windows a useful feature? Why do some condominiums have these and some don't? How to analyse units for bay window provisions?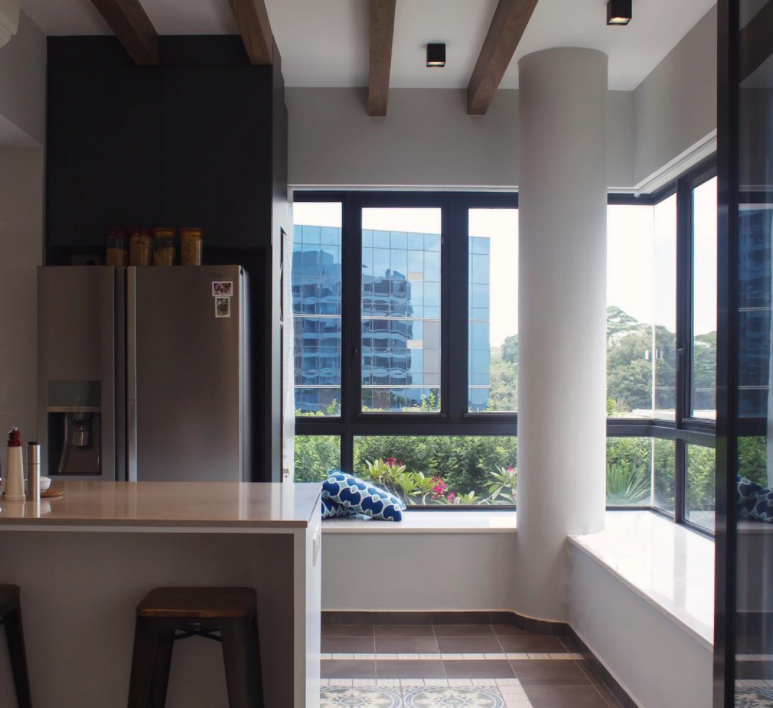 A bay window is a form on cantilevered window that are raised from the floor and projects out to the facade. This projection often becomes a seating alcove or a display or storage ledge.
There is a certain vintage of condominiums in Singapore that feature a lot of bay windows in the unit design. Why is that so and are they a good feature in a unit or not? We dug into some data to find out.
Policy guides Design
Singapore's private housing design is very much impacted by regulations imposed by the Urban Redevelopment Authority (URA) in Singapore.
The density of a condominium is governed by the maximum Gross Floor Area (GFA) that a developer can build based on the maximum Gross Plot Ratio (GPR) that the site allows for under the URA Masterplan. However the area and price quantum that a developer sells to end consumers is calculated by the Strata Area that each apartment unit has. And often the strata area that can be sold is more than the GFA that can be built.
This is because URA maintains a definition of which areas are counted towards GFA and which are not. URA also makes use of GFA bonuses or exemptions to promote certain developments or policies in the built environment. For example, to promote skyrise greenery in tropical Singapore, planter boxes used to be exempted from GFA calculations to encourage developers to design these provisions so that homeowners may be planting more gardens in the sky.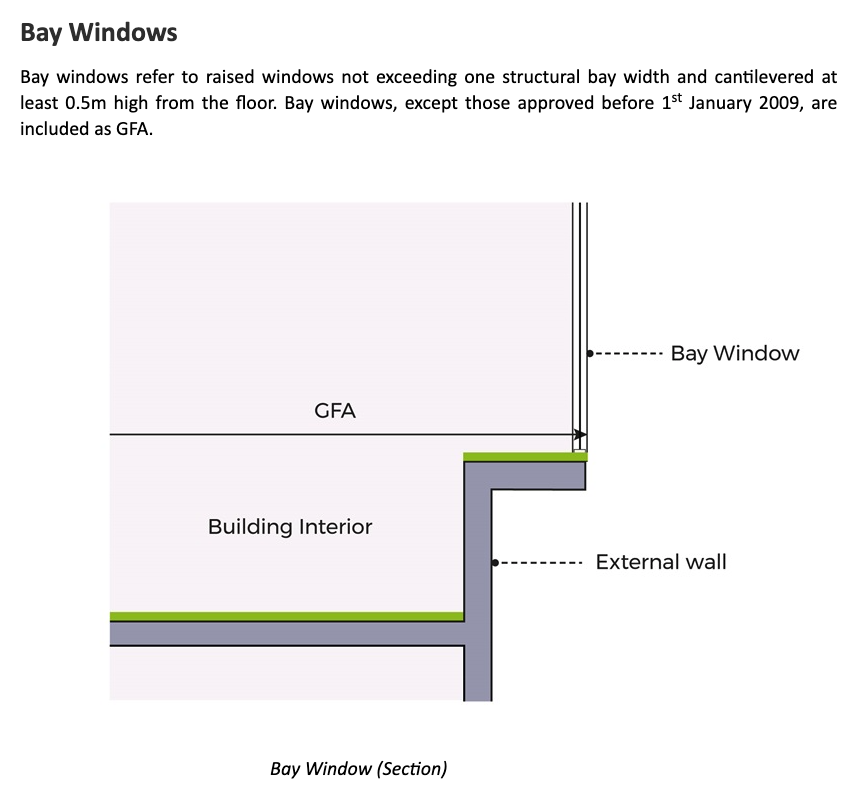 Bay window era
Before 2009, bay windows and also planter boxes were exempt from GFA calculations. This effectively created 'bonus' saleable areas which developers could sell without having to pay development charges for it.
Looking at the floorplan data from condominiums that received T.O.P. between 2000 and 2024, there is a period between 2002 to 2013 where more than 50% of the units completed in the market featured bay windows.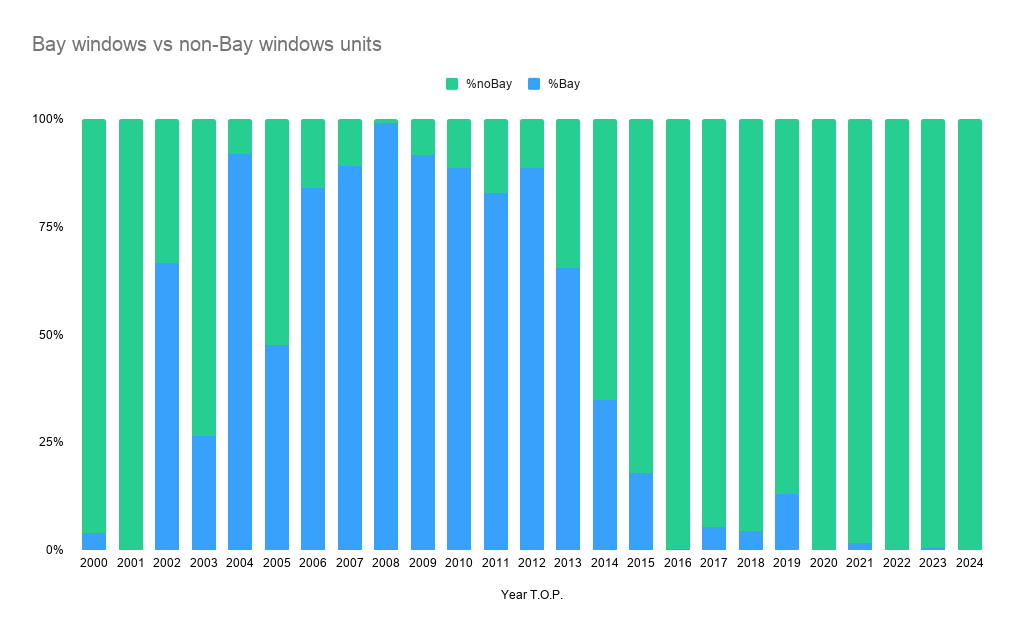 Looking deeper into our data, the total average areas of bay window ranges from 1.41% to 4.10% during this "bay window era". The average percentage is at around 3% which translate to about 4sqm.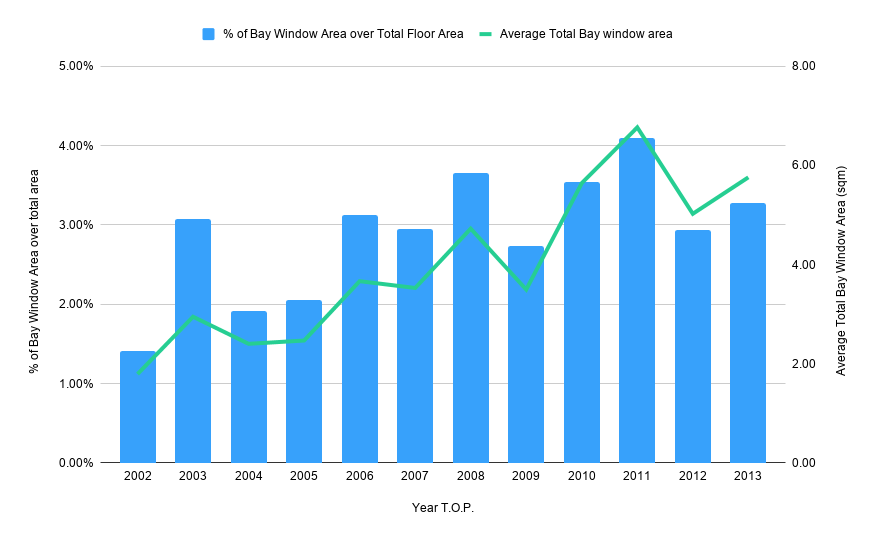 We got to ask ourselves if we comfortable having these spaces that are "floating off the floor".
In 2009, the guidelines were changed. The official reason given was that URA had noticed that extensive use of bay windows which can lead to higher heat transfer into buildings and increase air-conditioning load, making buildings less green and that it has also resulted in 'unintended and undesirable consequences' and 'unwittingly shifted market behaviours and negated the objective of the GFA exemptions for these building features',
From then, the number of developments with bay windows dropped significantly from 2013 onwards, as it did not make anymore financial bonus for the developers. Upcoming projects from 2021 onwards do not feature any bay windows at all.
How can attribuild help
How do you know if a unit has bay windows and planter? From the exterior, bay window designs are pretty obvious. The windows have a "pop-out" effect with a ledge below and above the window component or there is a "niche" space under the window.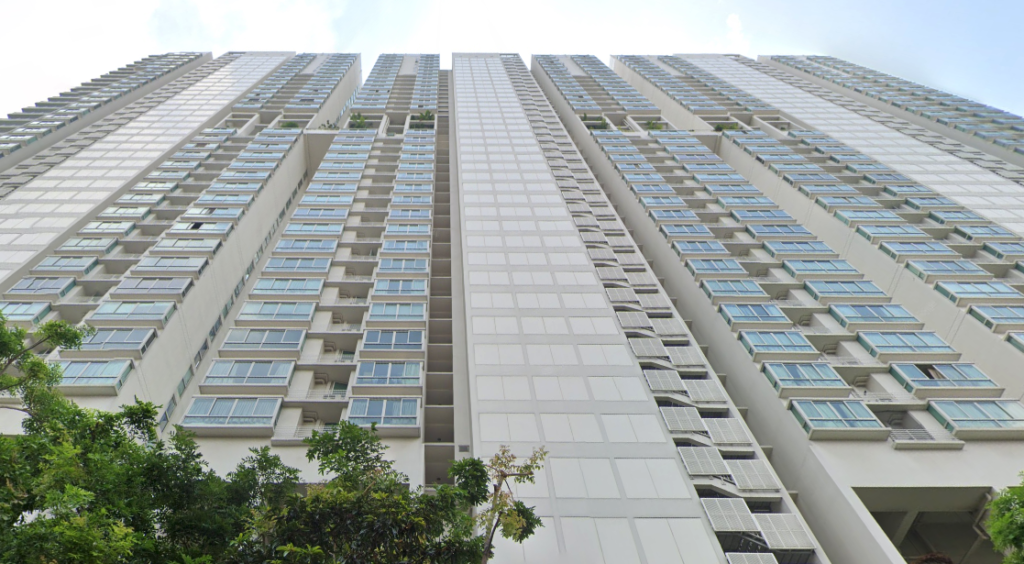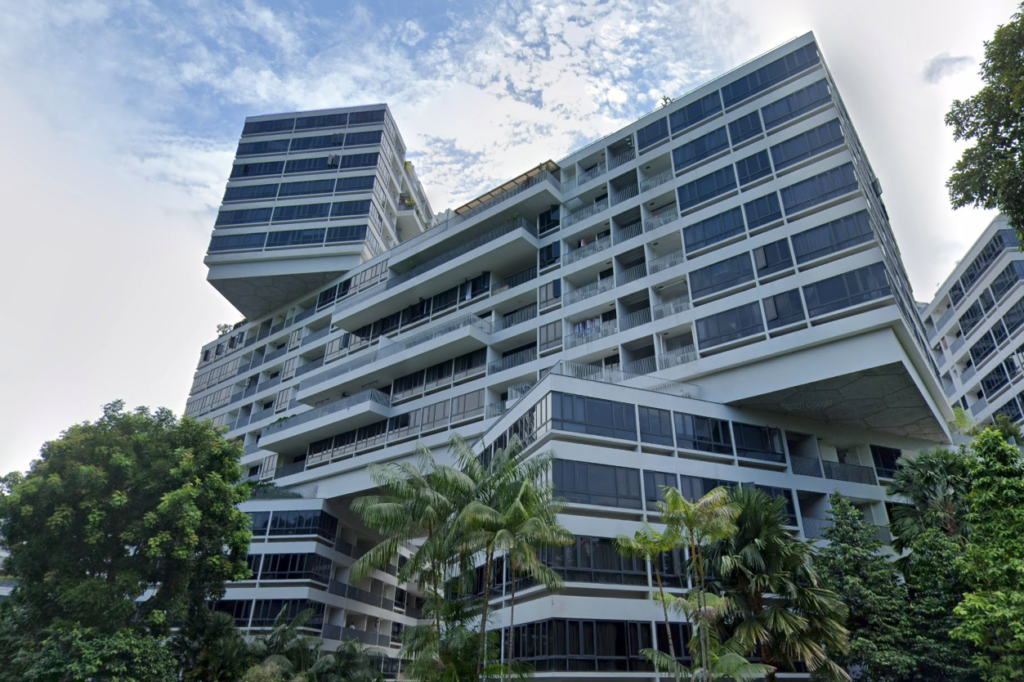 From the floor plans, there will be a distinct line ranging from 400 to 600mm from the window.
In every Attribuild unit report, the total area of all the bay windows is singled out and can be seen under the "Other Areas" accordian in the "Analysis by Area" section. With that you will know the amount to strata area that is attributed to these window features.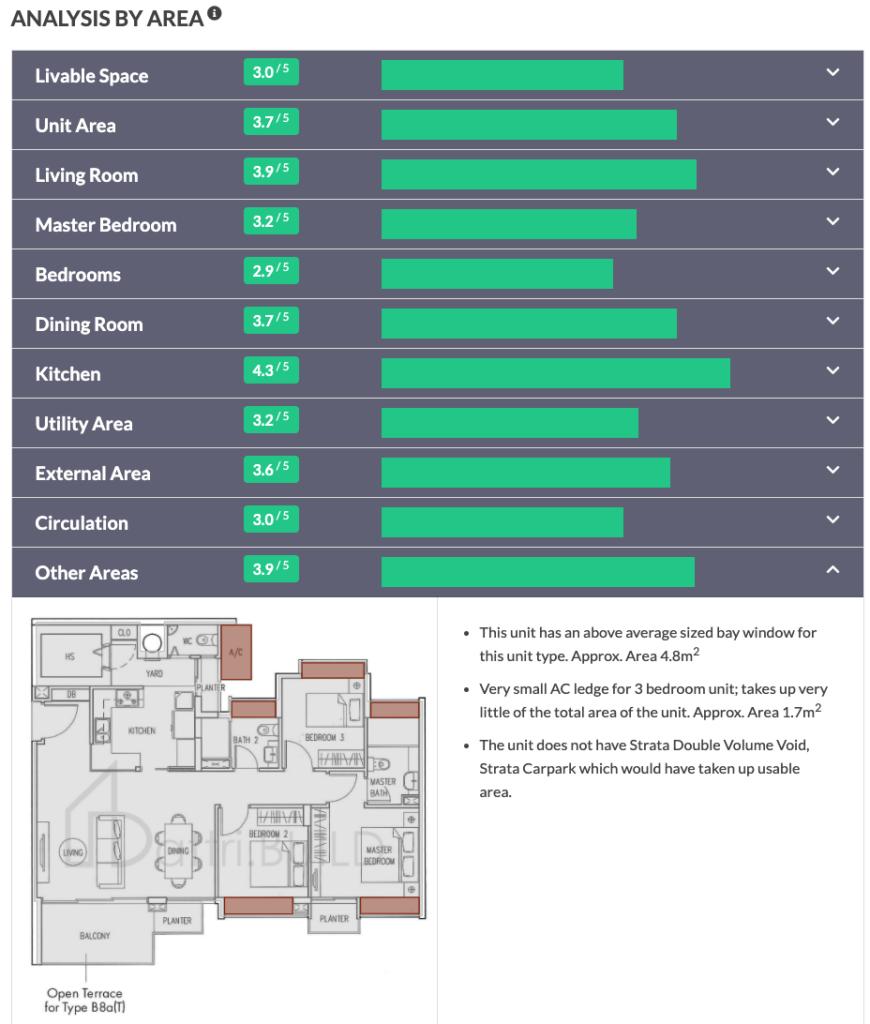 In Attribuild's default algorithm, we treat bay windows as a negative component of the floor area. This is because there is a limit to what you can do with bay window areas but this areas are usually priced at the same psf price as the rest of the unit. Therefore there is a disparity between price and utility of these areas. Therefore, the larger the bay window a unit has, the less it will score in Attribuild Score. A unit without any bay window will score better than one with bay windows all things being equal.
Another way it affects the the scoring of the unit is in the Livable Space Score. A unit with more bay windows will have lesser usable internal floor space in the unit compared to another unit of the same areas with lesser bay windows. I.e. the efficiency of the former unit is less than that of the latter unit.
You can read more about our methodology in this article here.
What can you do with Bay windows?
Whilst it is not a preferred element in the unit generally, there are still ways that we can put bay windows to good use and treat it in many ways to complement the unit. While it is not a 'floor space' it is still a horizontal area and creative interior design will be able to turn them into a variety of spaces like reading nooks, work desk extensions, seating, storage etc.
Some interesting ways can be found in articles here and here.
One thing to note about safety, the elevated bay makes be more hazardous for kids; thus some parents would install safety grilles which may affecting the aesthetics of the unit.
To bay or not to bay
We hope this article can help you make informed decisions regarding the unit plan that you choose. Property seekers looking at condominiums built in the decade between 2004 and 2013 will likely encounter bay windows in the units; use the Attribuild reports to help you get a deeper understanding of the spatial efficiency to see if it fits your lifestyle.
We are piloting a bespoke service to help you find an apartment that truly matches your lifestyle preference. If you have any specific requirements for a house, for example, you want to avoid any bay windows or prefer certain features like big balconies or storage areas etc, feel free to hit us up at hello@attribuild.com
---
About Attribuild
Attribuild is a proptech start-up based in Singapore.
Attribuild has developed a patented system to analyse and evaluate floor plans to determine a unit's liveability and efficiency. With the Attribuild Score and Attribuild Rank consumers will be able to better decipher floor plans and discover nuances between developments to help them make better real estate decisions.
Do visit www.attribuild.com to find out more and like our Facebook page for updates.