Using algorithms and a patented system, Attribuild has applied design analysis on floor plans and created a score for each residential unit in Singapore. Now consumers can have a sense of a unit's liveability and spatial efficiency and with that be able to make better real estate decisions.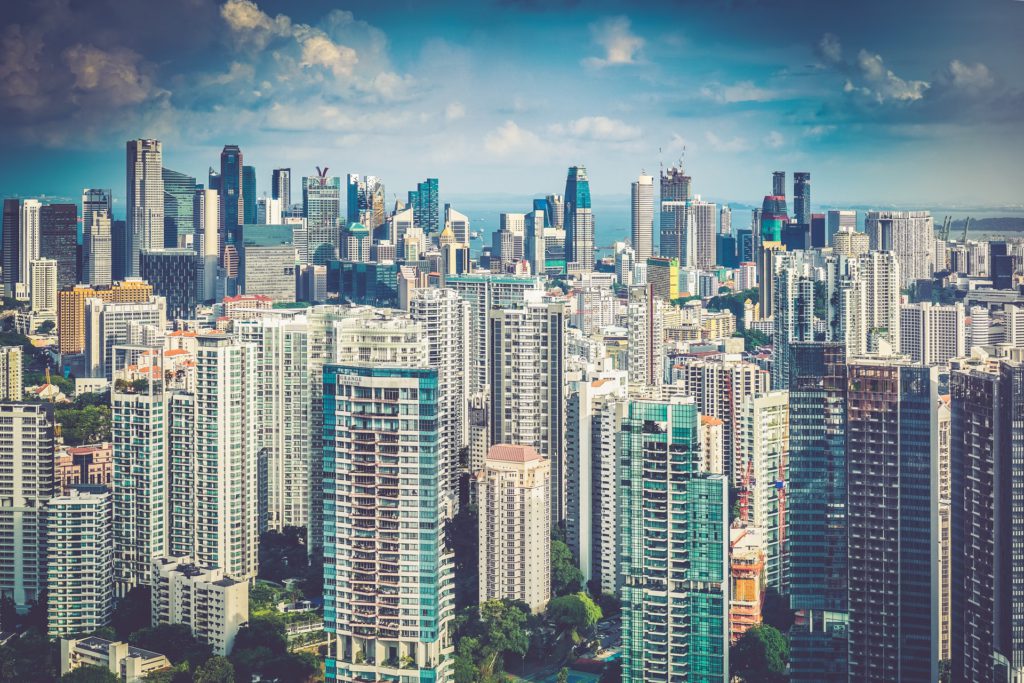 What is missing in Property search and Property marketing till now?
Think about it, how have you been searching for your home? Chances are, you lock in on a location that you like, use your budget to filter down to units in multiple developments that are available, and trawl through listings (sometimes repeated) or head to multiple show flats (pre-Covid) or view multiple online tours. After some fatigue, you finally settle not the unit and hope you had made the best decision on one of the most expensive purchase.
"Location, Location, Location", that is the age old adage for any real estate purchase. Being an immovable asset class, this criteria for choosing where to stay will probably ring true forever. Location is the first factor we consider when we start thinking of finding our new home. Nowadays there are a myriad of features online to finetune our decision on the location of the next home purchase. Features like geo-spatial data to link listings to landmarks like transport nodes, schools, transportation time abounds.
Next comes price. With limited resources, we have to limit our search for our home within our budget. Of course prices are generally a function of the locational attributes. Developments that have better location command higher prices and vice versa.
However, after location and price, the search process becomes muddled with more proxy information, often related to the condominium development.
Besides very fundamental attributes like the unit area and number of bedrooms and bathrooms found in new launch brochures or in resale listing sites, there are usually no details of the unit design like efficiency, areas and dimension of the various component rooms.
For new launches, marketing materials will tend to feature the design elements of the condominiums highlighting common area features and facilities, or unit level fittings or furnishings. For resale listings, some listings will be accompanies by photos or VR tours of the actual unit, often there are no floorplans to have an overview of the unit in question.
There are not enough expert opinions, ratings and comparison in the market of different unit design as well.
Buyers often make their million dollar purchases not knowing if the unit truly meets their needs or how it rates among its peers.
How does Attribuild figure in all this?
Attribuild tries to bridge this gap with the creation of the Attribuild Score and Attribuild Rank for each and every apartment in Singapore.
Attribuild provides the "true Measure of home".
The score is a quantitative way to assess floor plan design. By putting a score to floor plans, and basing it on data analytics, architectural/anthropometric principles and design conventions, it will allow plans to be compared easier.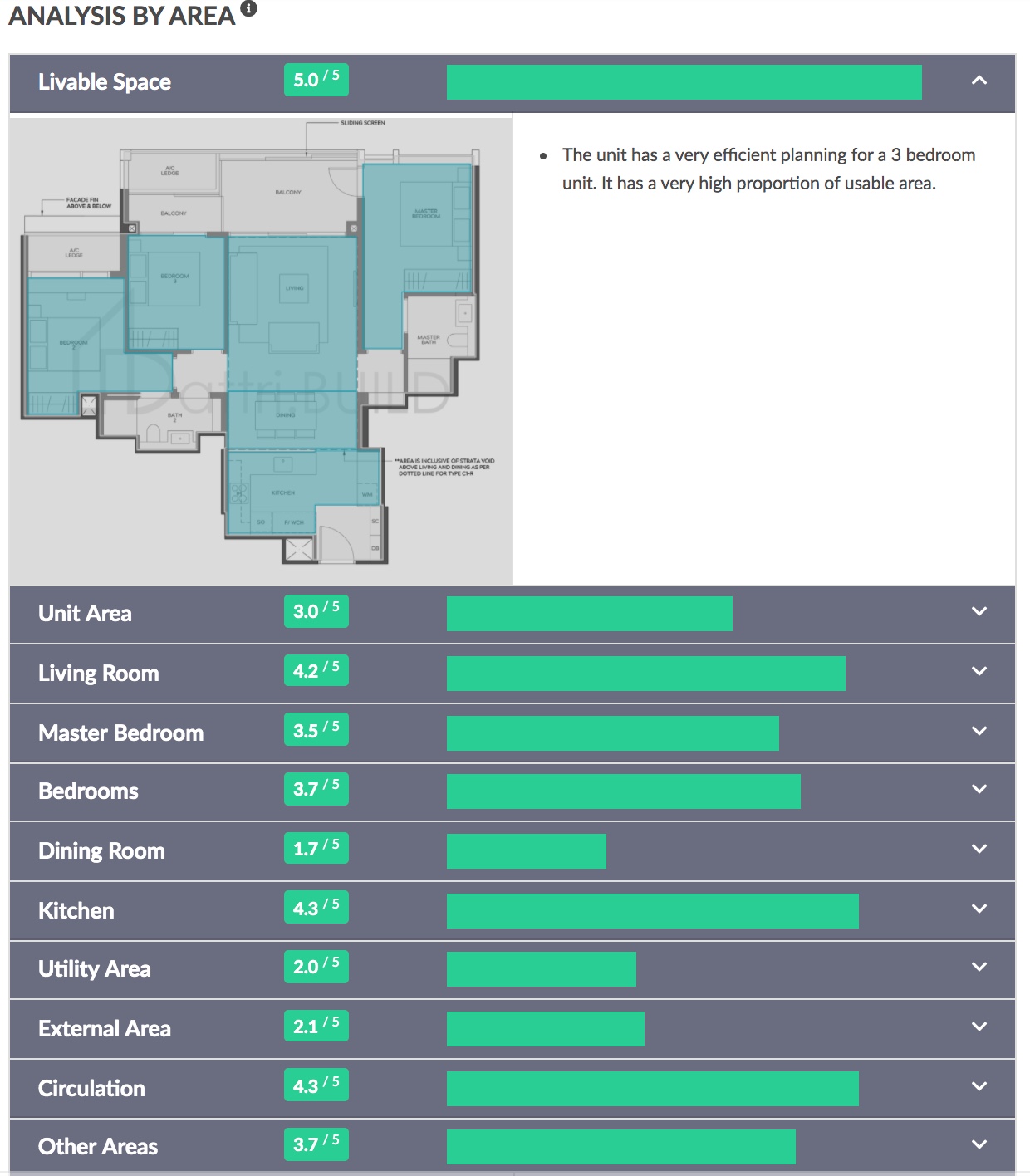 These scores will allow one to quickly have an idea of the performance of the floor plan from a spatial efficiency point of view, for e.g. is the unit efficient? is there any abnormal proportion of floor area given to service spaces like corridors, aircon ledges at the expense of livable spaces like bedrooms. Furthermore, they let users know if room dimensions are suitable for its use or how it compares to its peers, for e.g. can it fit your favourite couch? Is the kitchen counter length sufficient? etc.
By using standardised scoring, there is now a basis to compare and rate units. At a glance, relative strengths weaknesses of any unit can be compared and assessed to see if it fits our intended lifestyle.
Can I trust the scores?
These scores can be treated as a proxy of the unit's spatial provisions. Currently, only physical unit dimensions, proportions and spatial provisions are evaluated. Price, location or facilities and amenities around it are not.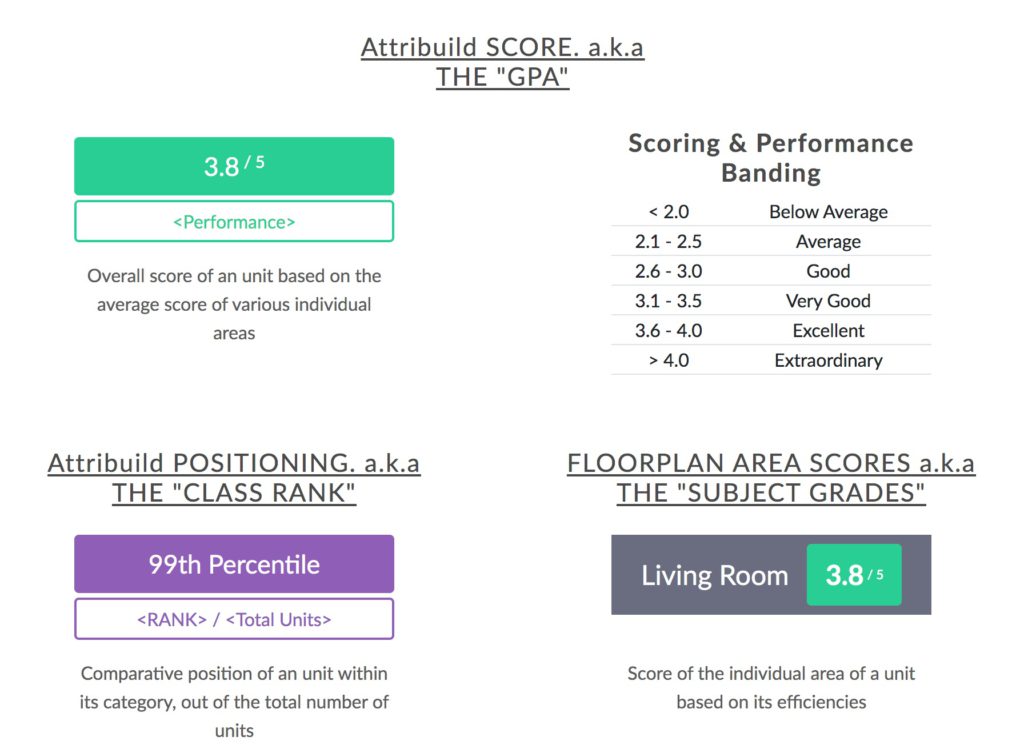 These scores are generated by an algorithm that is developed by the Attribuild team, whose founders include registered Architects and techies. It is generated based on a few key criterias : Firstly, the team took into account the science of anthropometry, architectural design conventions, and spatial definitions. For example, a bedroom that has problem fitting in even a single bed will not have a high score. Secondly, the algorithm also look at the market norms in the scoring. This means that older apartments that generally has more generous spatial provisions tends to score higher. This means that the score is able to reflects the (Singapore) market norm with a weightage and give an indication of how the unit compares to others.
More importantly, it must be noted that the scores are automatically generated after the floorplan is ingested by the system. It is based on a set rules/algorithm that is applied across the board, thus it is fair and objective without any differential treatment of certain plans.
This system of collating, analysing, scoring and ranking floor plans has been granted a patent in Singapore and is also patent pending in other areas. We will be constantly improving the algorithm and AI so that the the level of granularity of the data can be improved and more information about units can be analysed.
What makes a score high or low?
A high score will mean a number of things:
The unit's area is large for its type, for example a 120sqm 3 bedroom will score better than a 80sqm 3 bedroom apartment.
The unit has a high efficiency, i.e. there is a high proportion of livable spaces vs service spaces. There are also less space wasting salable areas like AC ledge, bay windows, roof terraces, corridors and double volume void space.
Room dimensions are adequate and properly sized, for e.g. bedrooms are properly sized to fit beds with space for side tables and does not make use of bay windows.
The kitchen has sufficient counter space for proper equipments and worktops.
There are more utility areas like yards, store rooms, bathrooms, utility rooms to provide a good balance of service areas vs living space..
In general it performs better than other similar type of units in the market.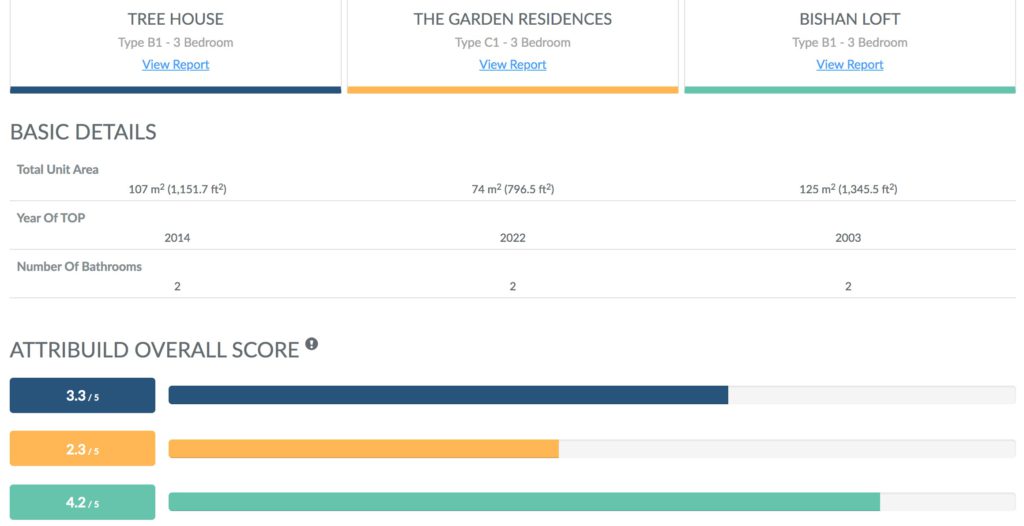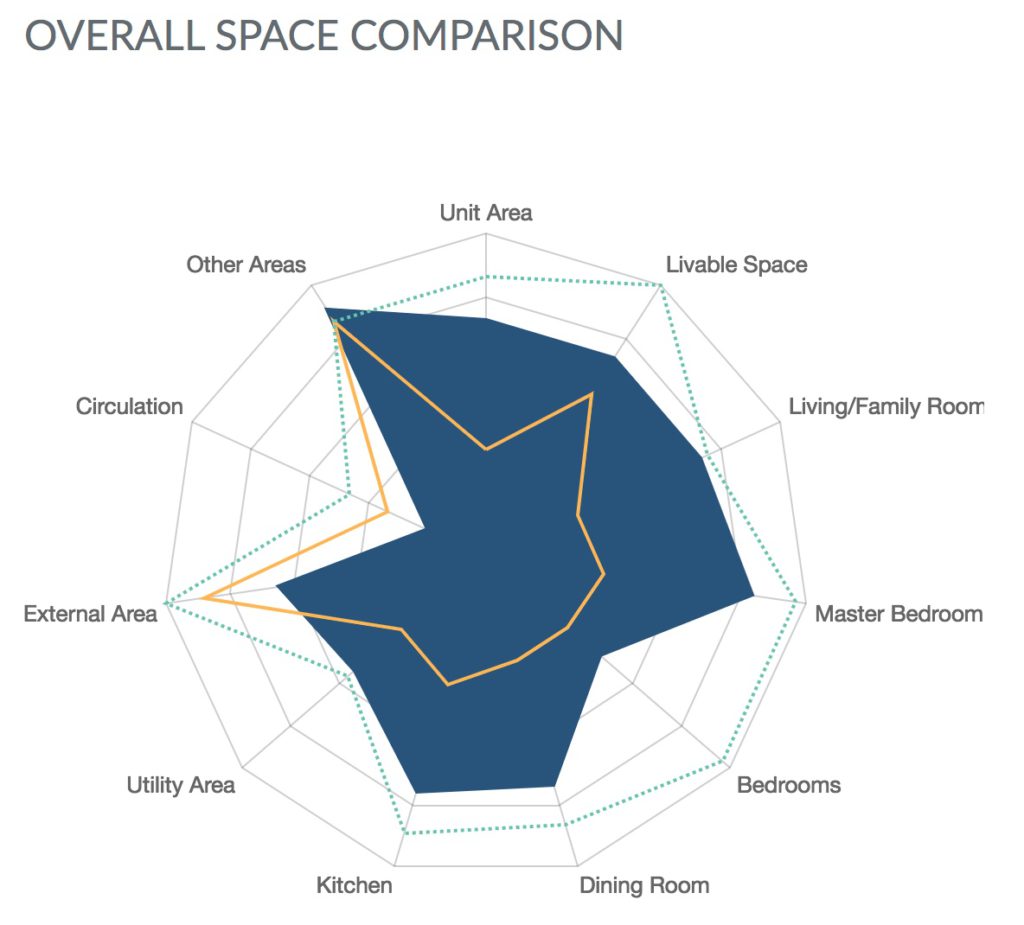 However it does not mean that a large unit will automatically get a high score; the way the unit is laid out will also affect its efficiency, for example, long corridors to rooms will result in a poor utilization of floor area or excessive large roof terraces or double volume areas.
How does the score help me?
The Attribuild score of each unit is an intrinsic and also a relative comparison to the entire stock of the same unit types in the market. The rank also helps to place the unit amongst it's cohort or peers. With this, there is finally an objective method to put 1 floor plan against another to assess the spatial effectiveness.
However we understand people would place different importance to different spaces based on their lifestyle needs. For example, some may like large kitchens due to their home chef credentials or some prefer larger outdoor spaces for their green fingers.
We are working on a feature release to allow you to search based on lifestyle needs as well as work with partners to better the property search and buying and selling experience. Do stay tuned.
Unit design is one facet of the personal and often stressful process of looking for one's home. However, it is a very fundamental and overlooked step of the current home buying process – that of comparing and evaluating the actual product that you are purchasing, the unit itself. Can you imagine buying your car without knowing how fuel efficient is the engine?
There are also other factors that will together determine which unit is selected. It might be the right neighbours, the way the sun catches the water outside or countless other details. With Attribuild, you can now shorten the pre-selection process so that you can spend your precious time at those viewings looking at these details instead.
So, hop on to www.attribuild.com to search and compare floor plans and use the analysis to supplement your property assessment exercise and find your ideal home earlier.
---
About Attribuild
Attribuild is a proptech start-up based in Singapore.
Attribuild has developed a patented system to analyse and evaluate floor plans to determine a unit's liveability and efficiency. With the Attribuild Score and Attribuild Rank consumers will be able to better decipher floor plans and discover nuances between developments to help them make better real estate decisions.
Do visit www.attribuild.com to find out more and like our Facebook page for updates.