Which condominiums in Districts 17,18,19 (Changi, Loyang, Pasir Ris Simei, Tampines, Hougang, Punggol, Sengkang ) have good provisions of study rooms to create that productive home office or classroom?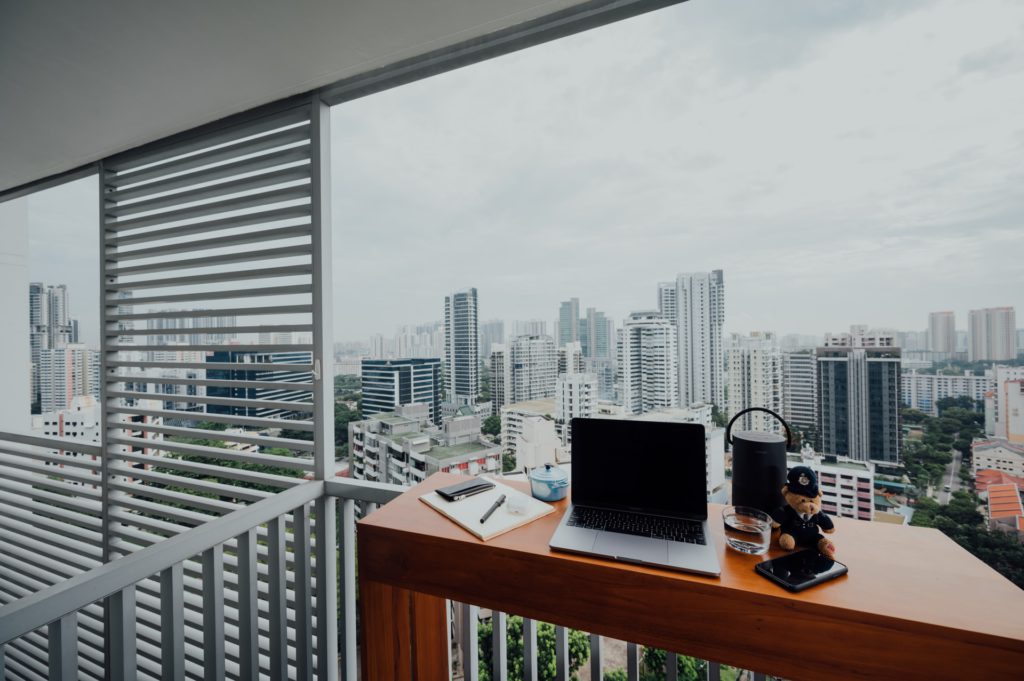 The Work From Home phenomenon may be here to stay. At the time of writing this article, Covid cases has come down in Singapore but our neighbour Malaysia imposed a CMCO (conditional movement controlled order) in KL and Selangor and Europe has reported a resurgence of cases.
Here in Singapore, the government is still encouraging WFH as a preferred work arrangement where possible and requiring employers to limit the number of employees at the workplace at any point in time.
In the first part of this series, we filtered out 1, 2 and 3 bedder units in new condos (T.O.P. 2020 and beyond) that has a good size study room provision.
Part II of this series continues our search for units with good scoring Study Rooms in completed projects across Singapore.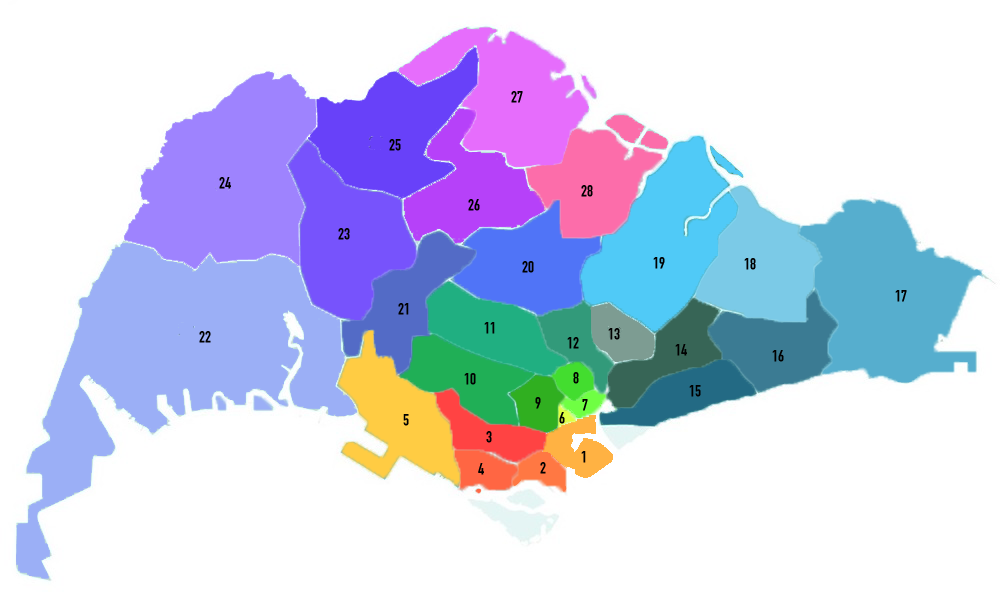 We will focus the search in District 17,18,19 in this article. We have set certain criteria for the units to feature in these reports: Firstly, these study rooms must achieve the highest score and have more than 20 numbers of the same unit type. This will increase the chances for them to be available in the market should you be looking for one to cope with the "new WFH normal". We omitted the 4 bedders as they would probably have enough rooms and floor area for a more versatile WFH setup.
7 Unit types were uncovered by the search: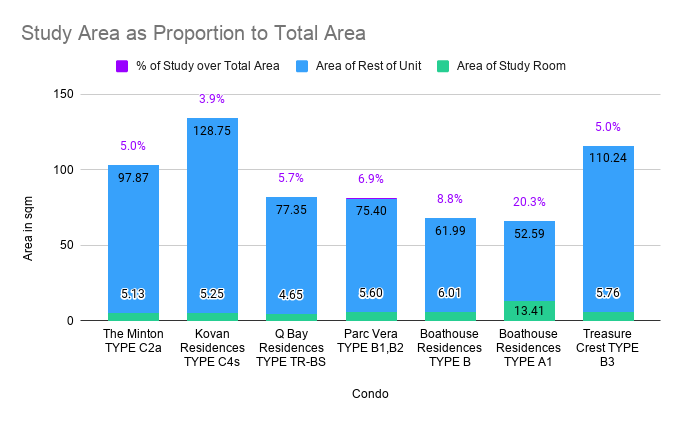 Let's look at each unit type in detail:
1. The Minton  — Type C2a
103sqm. 2 Bedrooms & 2 Bathrooms. 85 units. Stack 15,16,53,56,58,59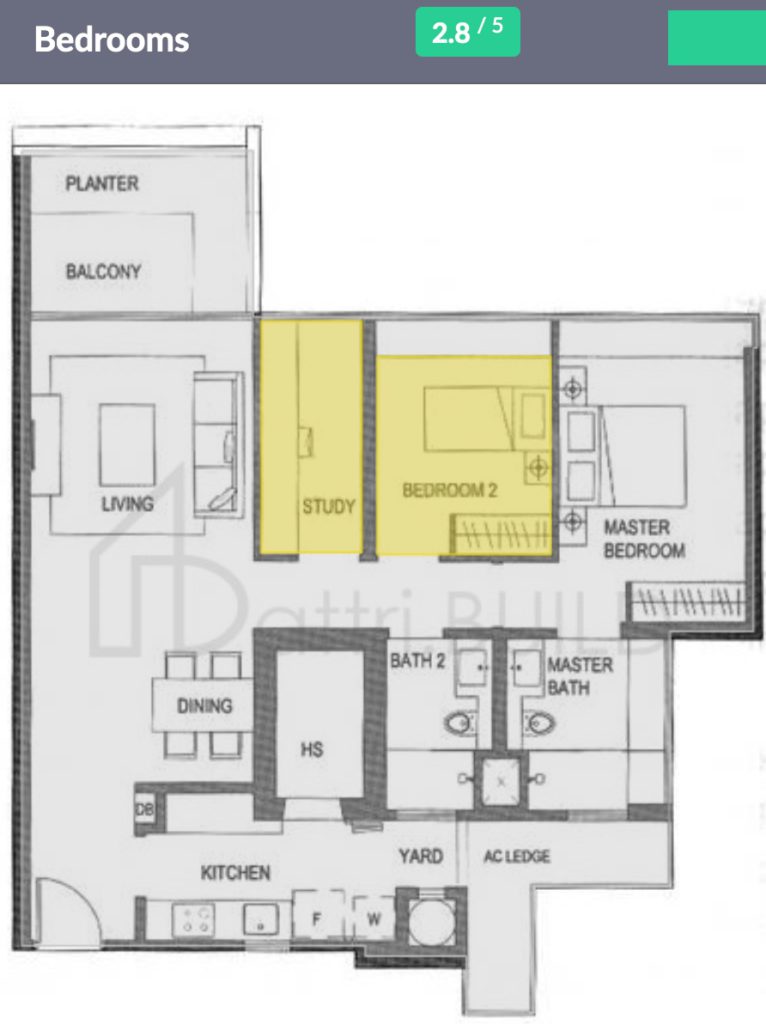 The study room is next to the main living room. The study room is sizable, however it is long and narrow at Approx. Area 5.1sqm (1.5m W x 3.5m L).
The length allows for at least 2 persons to be working side by side on a long table. The wall separating the living room can technically be converted to a glass partition to open up and brighten up with study. With blinds, privacy can be maintained like the pinterest image below.
View the full unit report here.
2. Kovan Residences  — Type C4S
134sqm. 3 Bedrooms & 2 Bathrooms. 48 units. Stack 24,27,32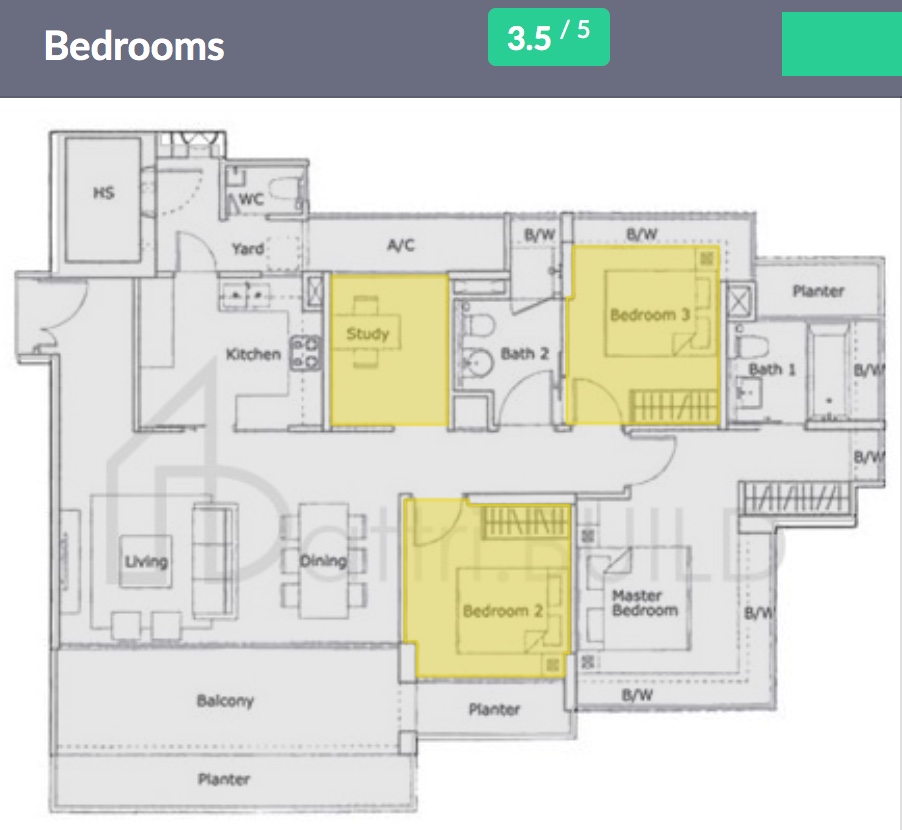 The study room is tucked between the kitchen and the common bathroom. The study room is sizable at approx Area 5.3sqm (2m W x 2.6m L).
This is a good size "home office" where you can place a proper work desk with space leftover for a bookshelf or a lounge chair or you can also place a long table facing the wall to accommodate 2 persons working side by side. The large windows also allow for good natural daylight.
View the full unit report here.
3. Q Bay Residences — Type TRBS
82sqm. 2 Bedrooms & 2 Bathrooms. 42 units. Stack 37,40,41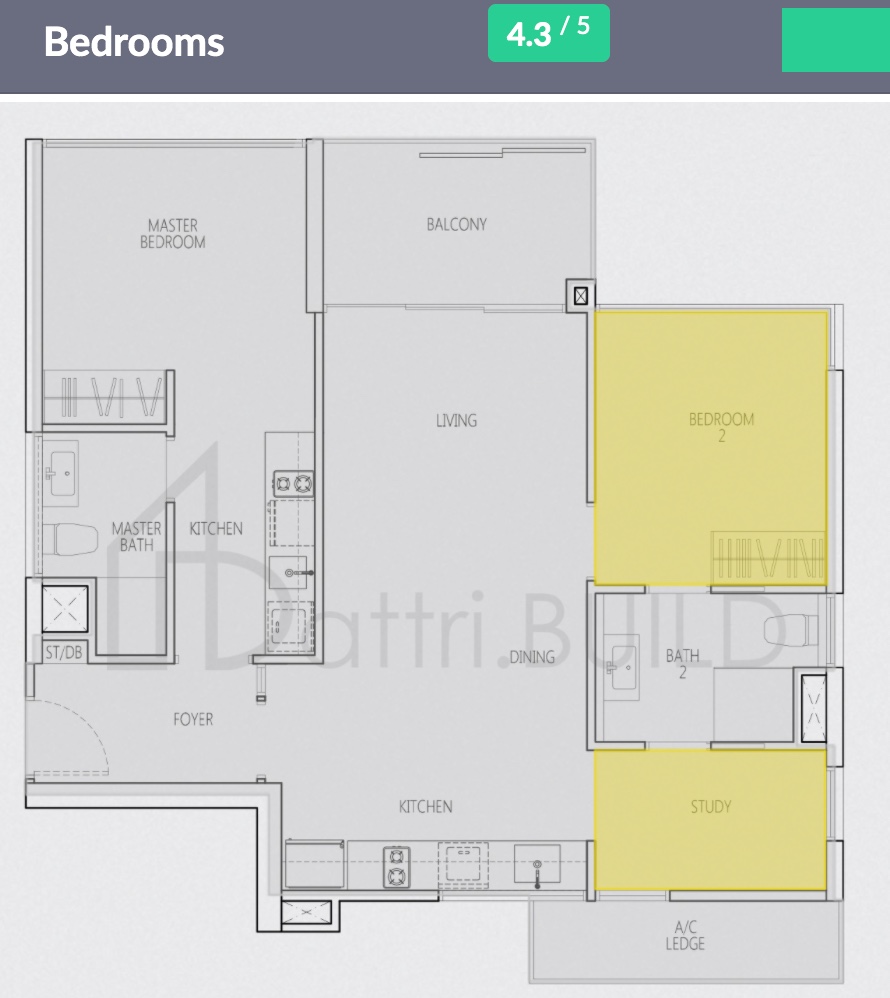 The study room accessed through the main kitchen of the unit. It has a connection to a bathroom making it very convenient. I
t is sizeable at approx. Area 4.7sqm (1.7m W x 2.8m L). Which can accommodate a long enough table to cater for 2 persons. However due to the access to the bathroom, the area for shelving or space behind chairs may be compromised.
Check out the full unit report here.
4. Parc Vera  — Type B1,B2
81sqm. 2 Bedrooms & 2 Bathrooms. 73 units total for B1 and B2. Stack 7,8,11,12,18,20,21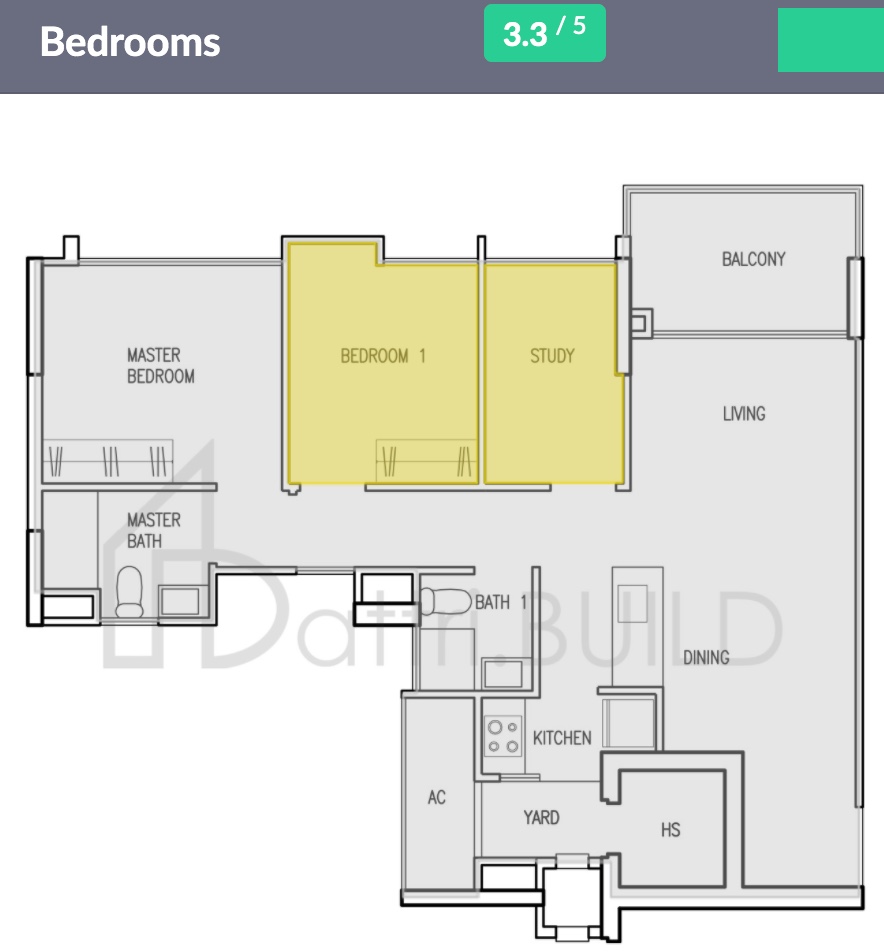 The study room is next to bedroom 1 and can technically be combined with bedroom if you need a bigger room or want to incorporate a walk in wardrobe.
As a study room, it is big at approx. Area 5.6sqm (1.9m W x 3m L) and long. It can comfortably fit a long study table against the wall or 2 workdesks facing each other or facing away.
View the full unit report here and here.
5. Boathouse Residences  — Type B
68sqm. 2 Bedrooms & 1 Bathroom. 39 units. Stack 3,4,25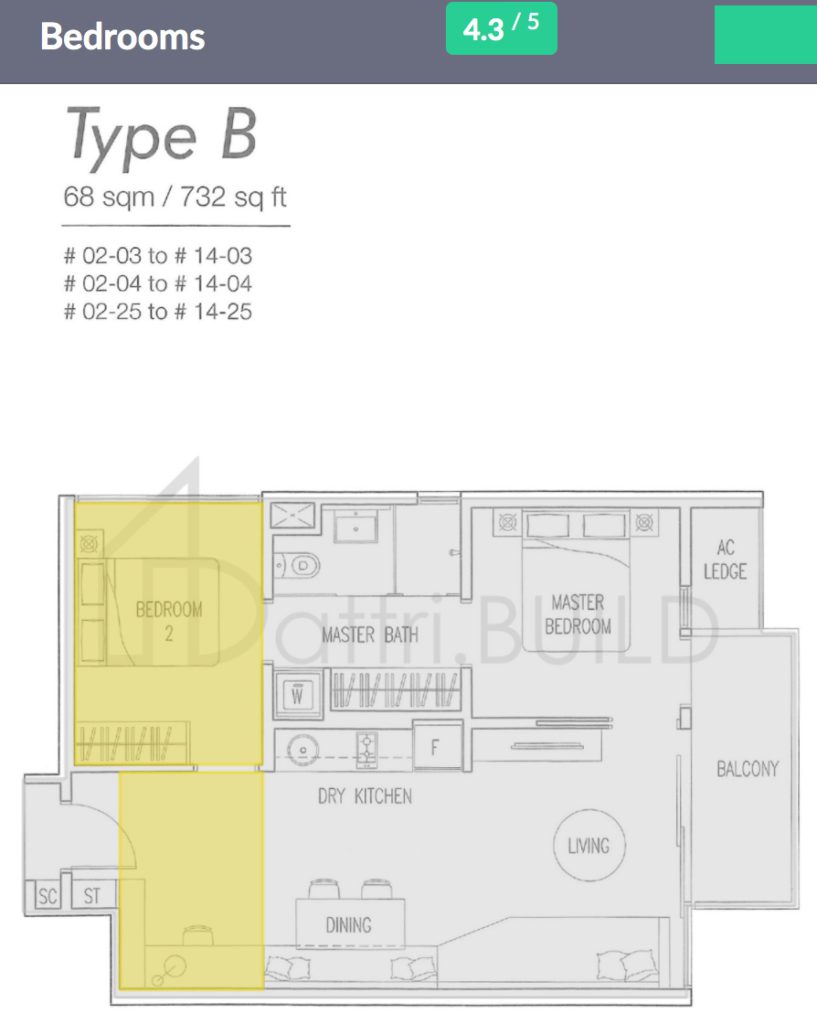 The study 'room' here is not technically a room but a space right next to the entrance, which flows into the open kitchen and dining which subsequently connects to the living room.
Although the area is very big at approx 6 sqm (2m W x 3m L)part of it would be access to the bedroom 2 and the entrance. There is still sufficient space though for a L-shape work desk setup. Being a continuous space with the rest of the house, noise may be a concern.
View the full analysis here.
6. Boathouse Residences  — Type A1
66sqm. 1 Bedroom & 1 Bathroom 1. 28 units. Stack 26,27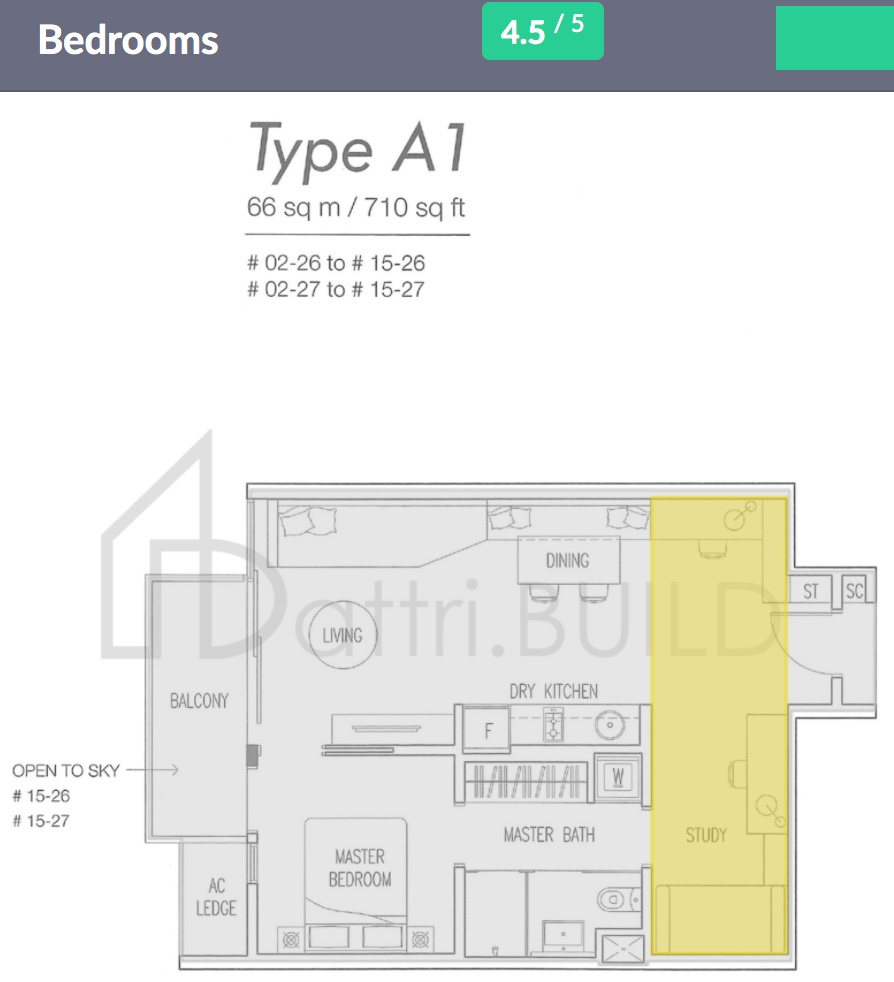 Boathouse A1 has quite a unique study setup. It is definitely one of the largest we have seen at approx Area 13.4sqm (6.7m W x 2m L), taking up 20% of the total floor area.
The space is the first space by the entrance, with a 'quieter' zone and an area that is 'merged' with the open kitchen and dining space, effectively allowing 2 persons to work comfortably.
There is also a direct access to the master bath from the study. The downside is that the room does not enjoy natural daylight.
Read the unit report here.
7. Treasure Crest  — Type B3
116sqm. 3 Bedrooms & 2 Bathrooms. 24 units. Stack 7,10,15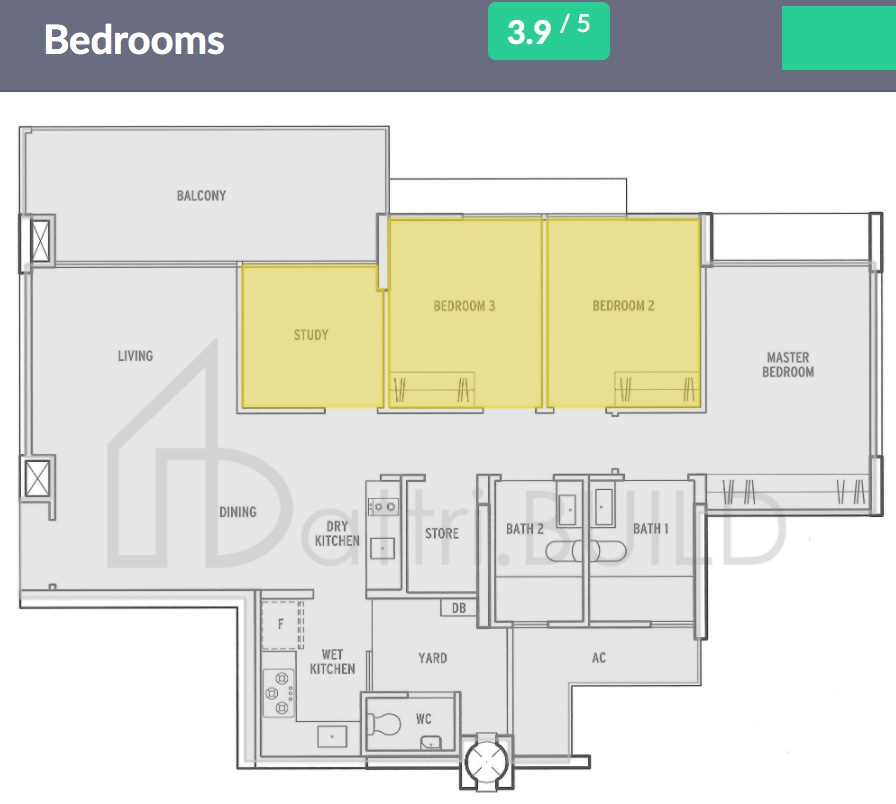 The study room is next to the living and adjacent to the dining space, making it part of the "active space" cluster while the bedrooms are to the right.
It is very squarish at Approx. Area 5.8sqm (2.4m W x 2.4m L), allowing for an L-shape configuration for 2 desks or a standalone desk with space for a lounge chair.
The room enjoys good daylight with the full-width window towards the balcony. There is opportunity here to create open plan spaces as well to merge the study with the living.
View the full report here.
Space for WFH
The days of flexible work arrangement in terms of choice of location is looking to stay on after this covid crisis is over. It is perhaps timely to relook at how to reconfigure your existing home to accommodate those work desks or maybe it's time to look for units which have study rooms.
We hope the condominium projects highlighted above can help you zoom into some developments to look at. If you would like a personalised search, you can reach out to us at hello@attribuild.com and we will be glad to assist.
Meanwhile, do stay tuned to this site while we uncover more units with good sized study rooms in other parts of Singapore.
About Attribuild
Attribuild is a proptech start-up based in Singapore.
Attribuild has developed a patented system to analyse and evaluate floor plans to determine a unit's liveability and efficiency. With the Attribuild Score and Attribuild Rank consumers will be able to better decipher floor plans and discover nuances between developments to help them make better real estate decisions.
Do visit www.attribuild.com to find out more and like our Facebook page for updates.