Where to find units with a sizeable balcony for that outdoor yoga session or to satisfy your green fingers?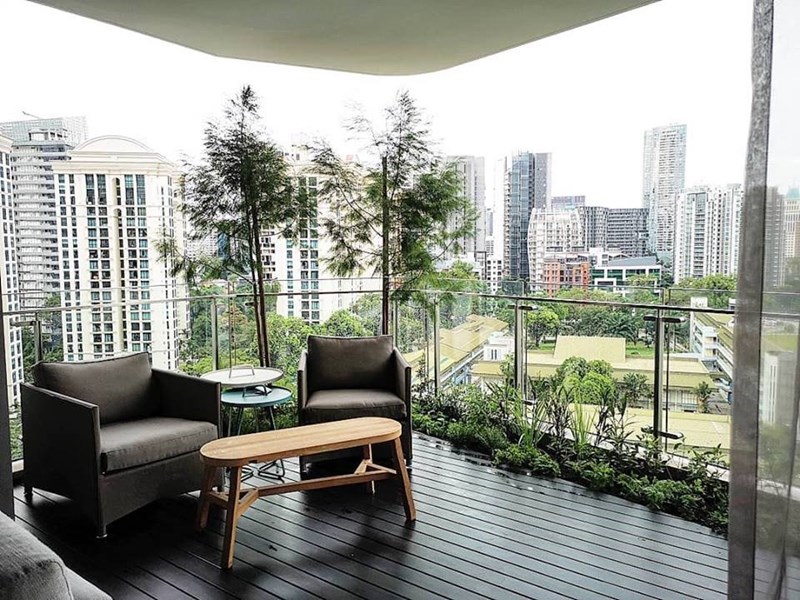 Policy guides design
Singapore's private housing design is very much influenced by planning guidelines of the Urban & Redevelopment Authority (URA). 
URA launched a "Balcony Incentive Scheme" in 2001 to encourage the developers to design more balconies, private enclosed spaces (PES) and private roof terraces (PRT) to provide residents access to outdoor spaces from their homes. It also sought to facilitate high-rise greenery to improve the quality of the living environment.
In order to incentivise developers to provide this outdoor spaces, URA offered bonus Gross Floor Area (GFA) to developers that is over and above the normal amount of GFA, thus allowing developers to build more area to sell. For a long time, the bonus amount of GFA was set at 10% of the maximum GFA otherwise allowed without balconies. Currently (effective from 17 Jan 2019) this bonus has been reduced to 7% of the allowable GFA.
URA has also lately set specific controls with regards to widths (min 1.5m), proportion of openings, total size of balcony vs unit sizes (15% of total area), provision and design of screens etc. All in trying to ensure that the spirit of an outdoor space is not compromised.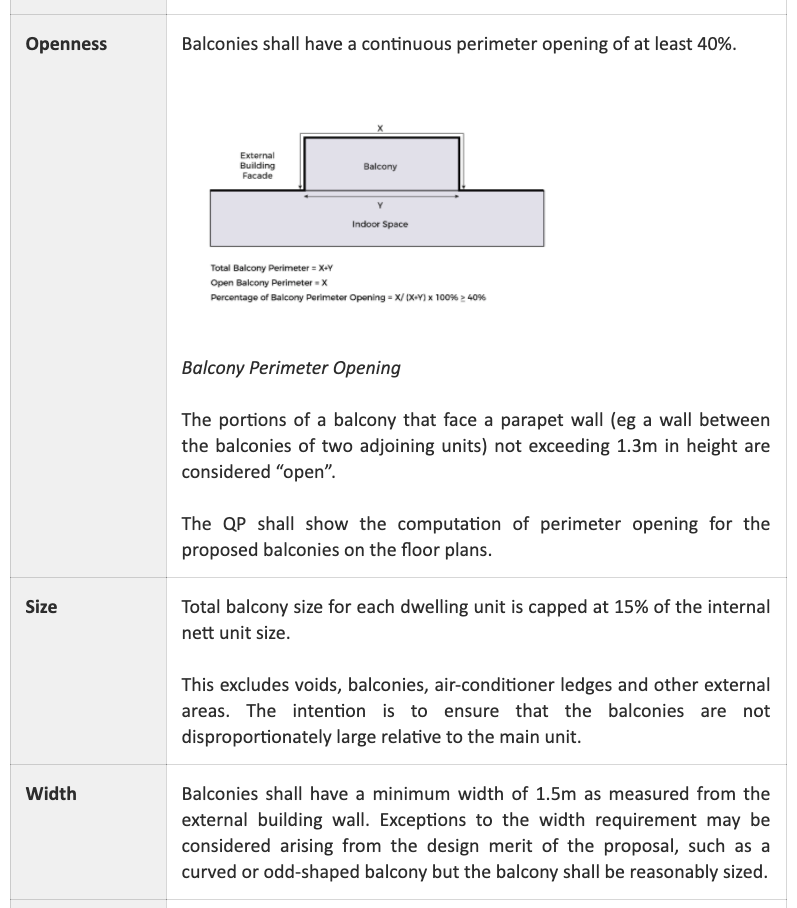 Great Outdoors
Buying a new home is a very expensive affair and every inch and every dollars matters. Most people may feel that spending tens thousands of dollars to buy some balcony areas which are external areas is not very "value-for-money". But for some, balconies are a respite to a small internal space and also provides better lighting and ventilation to the internal space. Couple with lush greeneries and comfortable external furniture, balconies do provide a garden in the sky.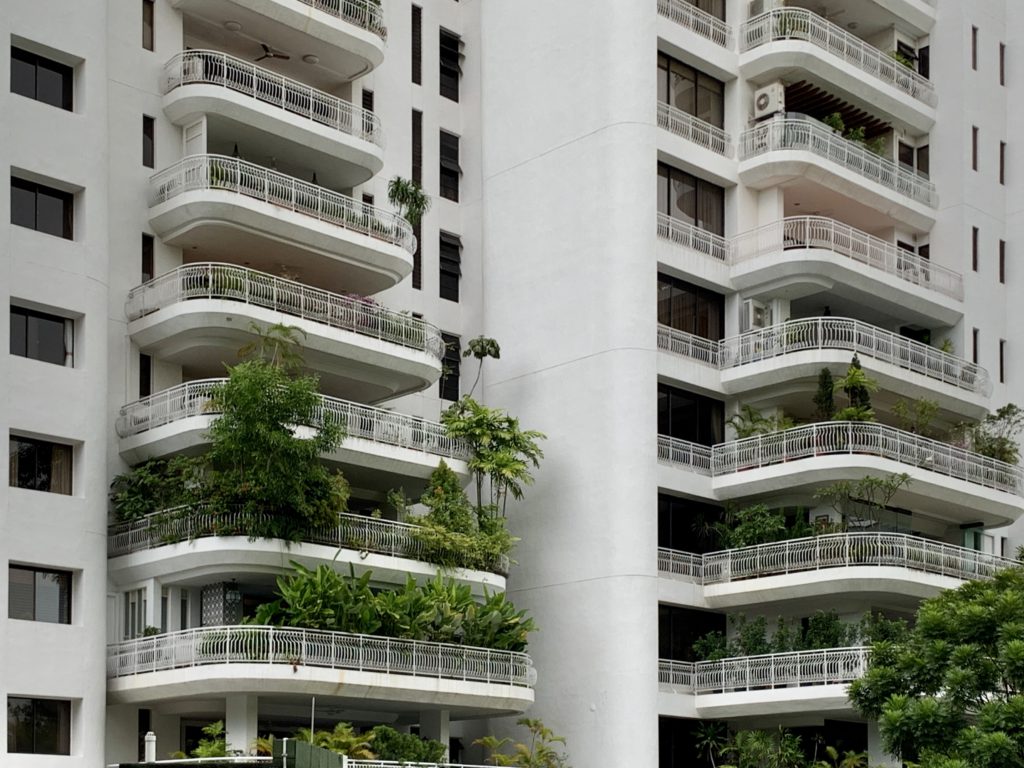 Variety Variety
Although the guidelines may be stricter now but architects and developers do have room to play to come up with interesting design for balconies. There are many different shapes and sizes to satisfy consumer's needs, respond to the building's surroundings and views as well as to complement the building's architecture. The positions or locations of the balconies within the unit also varies, some are connected to bedrooms, majority are connected to the main living spaces, but you so get some creative types like those linking to kitchen, creating a "lifestyle kitchen".
Sieving through developers' brochure or ploughing through listings to find units with a good sized balconies will be a very tedious process.
Attribuild dug into its database of Singapore condominium floor plans to pick out 9 units (three 1 bedders, three 2 bedders and three 3 bedders) with sizeable balconies for you to create your own skyrise garden or alfresco dining spot or outdoor exercise spot.
We will focus on purely balcony space, i.e. not PES or roof terraces in this search. And we will highlight unit types which have more than 10 similar units in the development (meaning they are not a unique unit in a development or exist in very small numbers). For the 2 and 3 bedroom type units, we will also highlight units with 1 single large balcony instead of many balconies. (We would cover balconies in every room in later Attribuild Insights article). And we will focus on condos that are less than 10 years old.
Let's see what the database throws up…
The 1 bedders
summary table of 1 bedders with large balconies
1.1. Duo Residences — Type B8
66sqm. 710sqft. TOP 2017. 16 units. Stack 12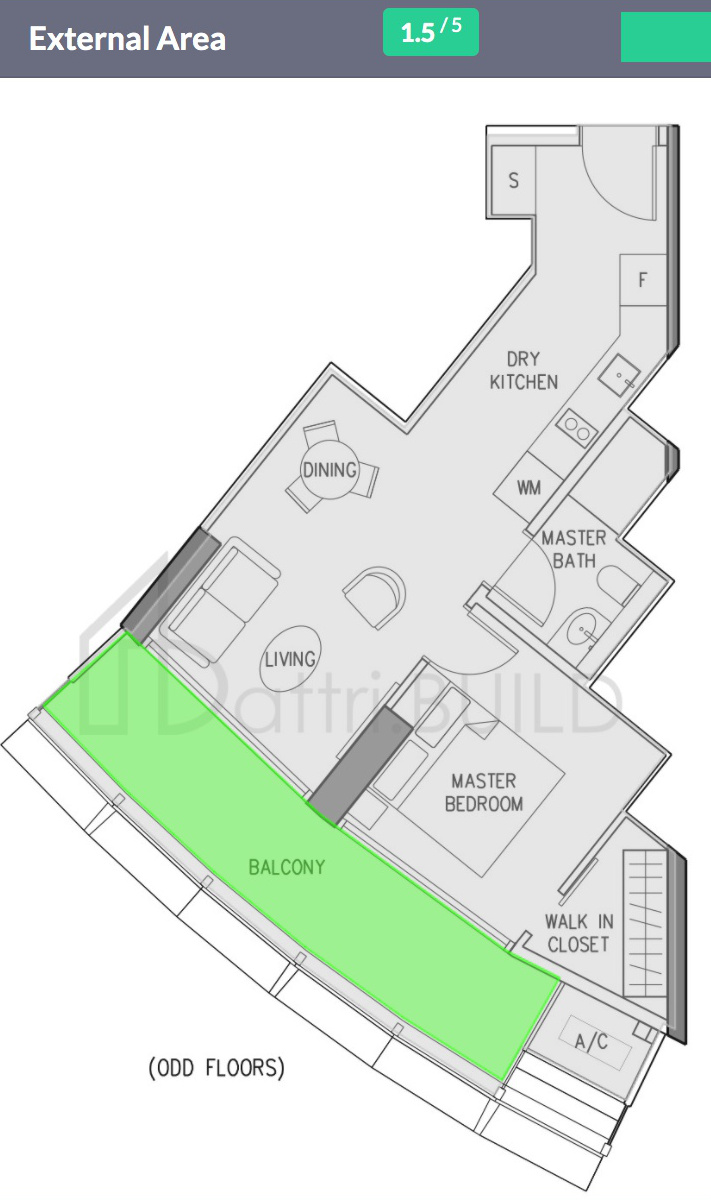 This unit's balcony spans the living room and masterbedroom. It takes up about 12.5sqm and occupies about 19% of total floor area.
View the complete unit analysis here.
1.2. Marina One Residences — Type 1A & 1B
72sqm. 775sqft. TOP 2017. 42 units on Stack 3,4 & Stack 30,31
This unit type's balcony has different areas on different floors (result of the artistic licence of the architect who is probably trying to create a more interesting facade)
Some of these units have balcony area hitting around 12 to 13sqm, resulting in the balcony space occupying about 17% of floor area.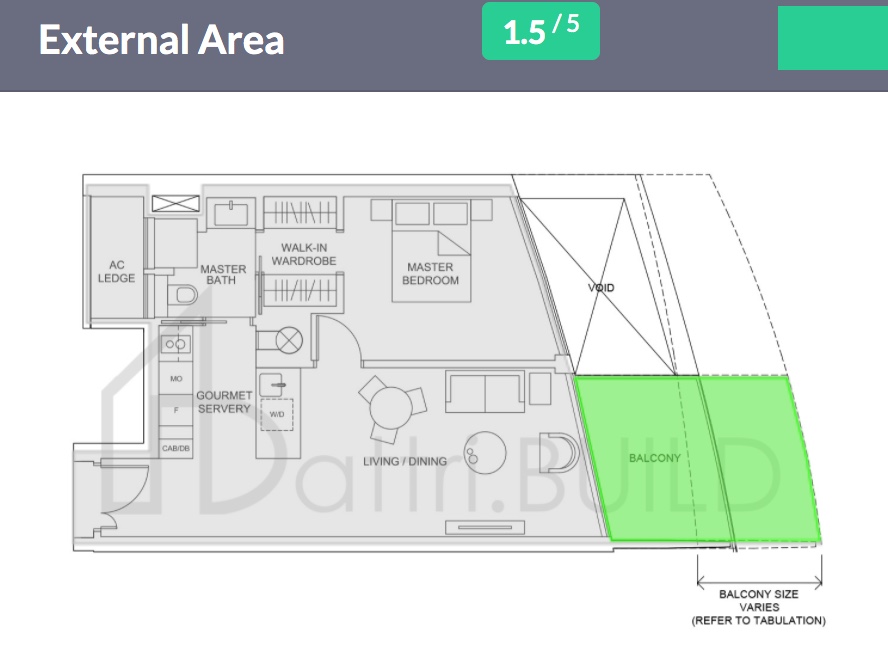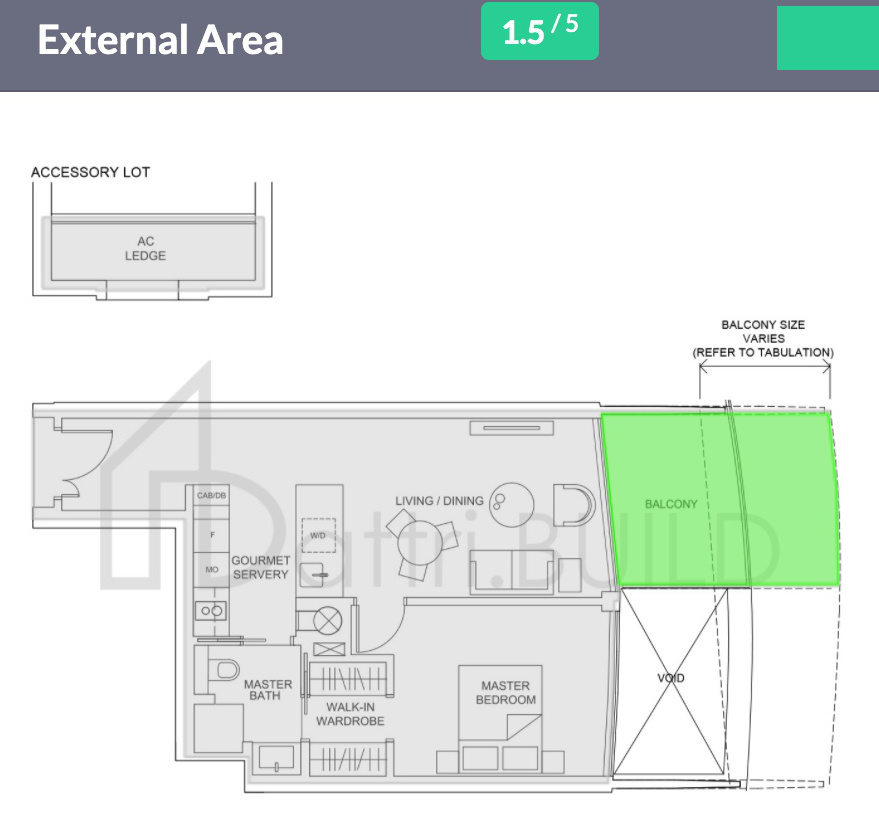 In fact Marina One Residences have many 1 bedroom units with a large proportion of units with sizeable balconies. Thus if you like a bigger balconies and a CBD location, this could be a development to shortlist.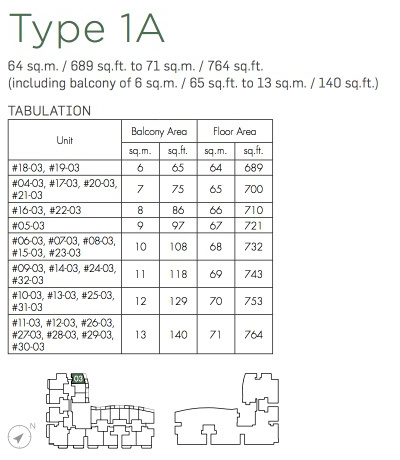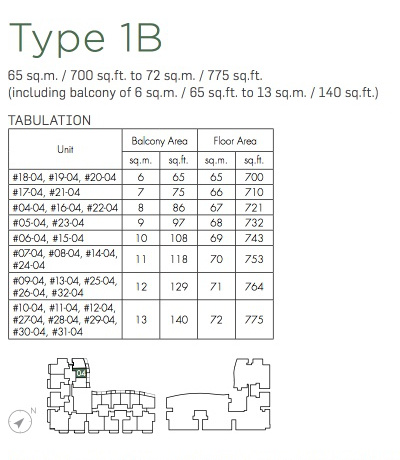 Check out other units from Marina One Residences project page here.
1.3 Suites @ Orchard— Type A1 & A1i
52sqm. 560sqft. TOP 2015. 12 units. Stack 10 & 15.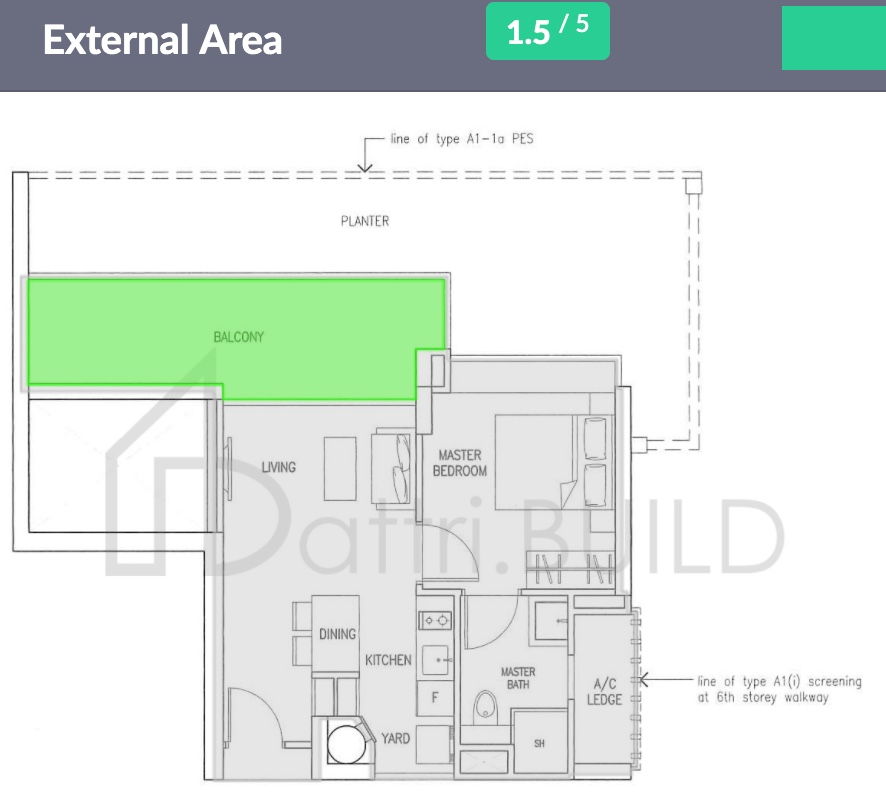 This unit's balcony takes up about 11sqm and occupies about 22% of total floor area, it is assessed through the living space and extends to the left of the unit.
View the complete unit analysis here.
---
The 2 bedders
2.1. Duo Residences — Type E2
110sqm. 1184sqft. TOP 2017. 16 units. Stack 11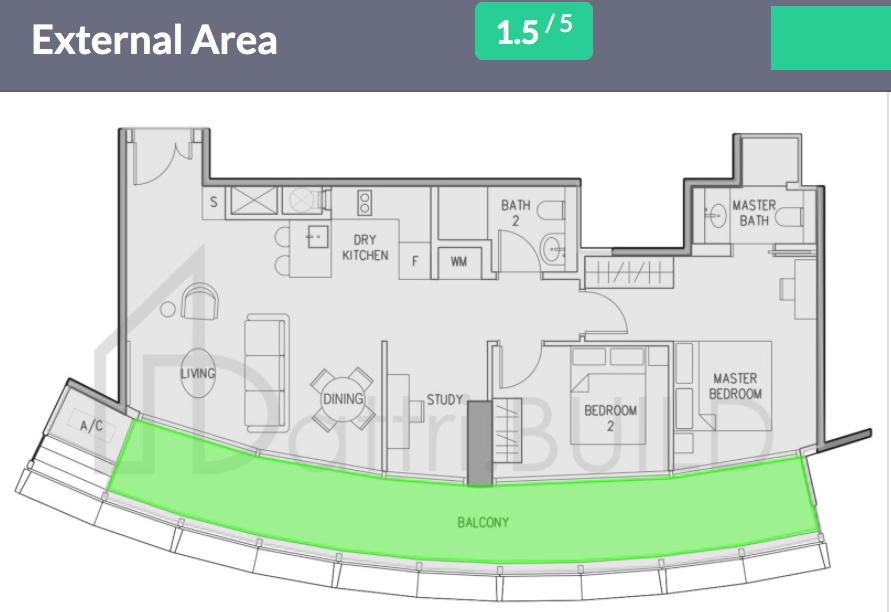 This unit's balcony takes up about 22sqm and occupies about 20% of total floor area, it spans width of the entire unit, you can access the balcony from the living, dining, study, and both bedrooms. This makes every room in the unit have a outdoor extension. Perfect for those who loves tropical living.
View the complete unit analysis here.
2.2. Sky Habitat — Type B3(83)
83sqm. 893sqft. TOP 2015. 22 units. Stack 3 & 16 (but floor number varies due to the architecture form)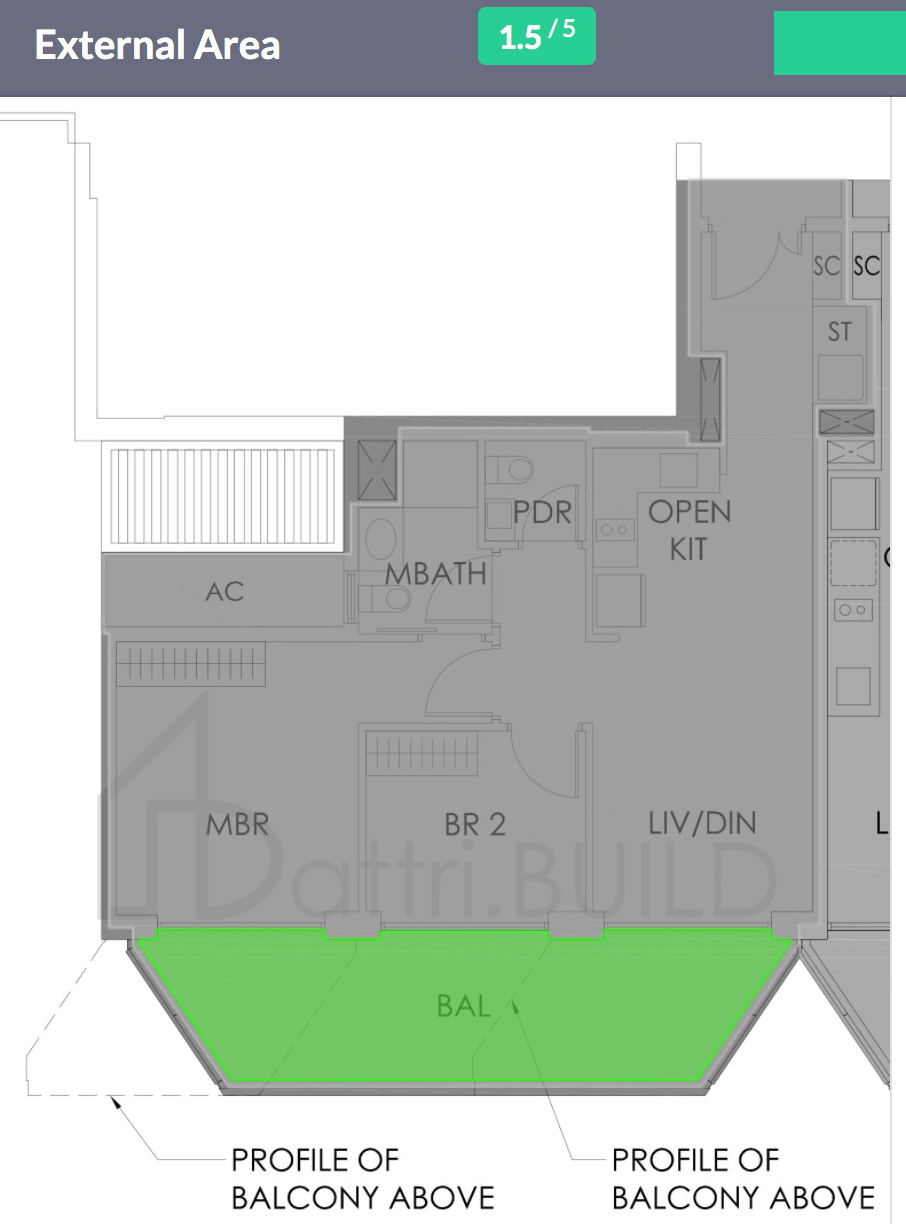 This unit's balcony is trapezoidal space of 15sqm and occupies about 18.5% of total floor area, it spans width of the entire unit meaning you can access the balcony from the living, and both bedrooms.
View the complete unit analysis here.
2.3. Terrasse — Type B-2
83sqm. 893sqft. TOP 2015. 19 units across the developments in almost every block.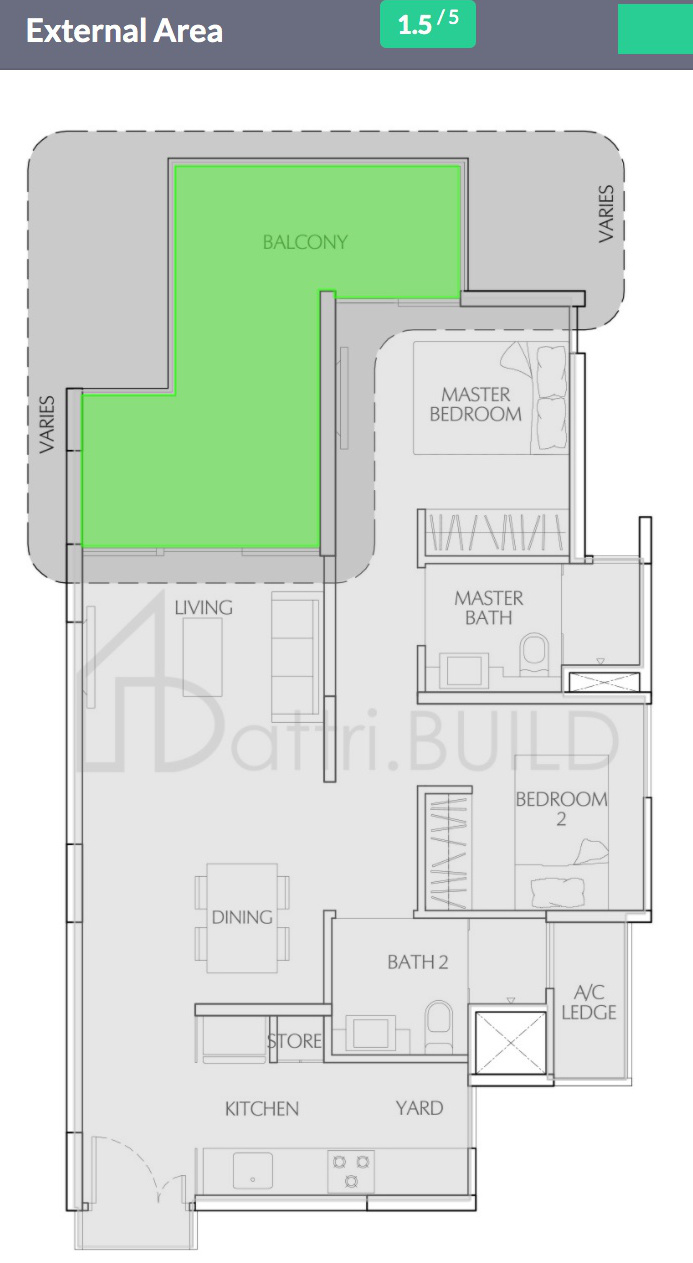 This unit's balcony takes up about 14sqm and occupies about 17% of total floor area. It is in an uncommon "z" shape that connects the living room to the master bedroom. The balcony is of a good width throughout, about 1.8m allowing for comfortable dining table or lounge chairs. It is like an extra outdoor room.
View the complete unit analysis here.
---
The 3 bedders
3.1. Cliveden  at Grange — Type A1 & A2
200sqm. 2153sqft. TOP 2011. 21 units. Stack 1 & 2.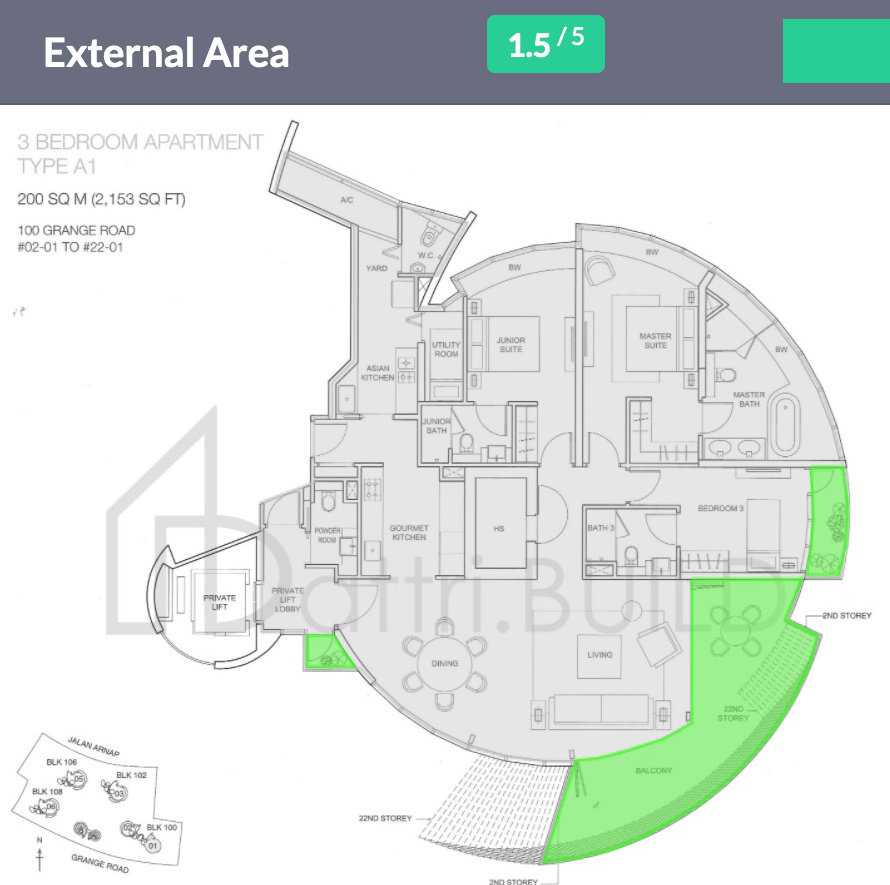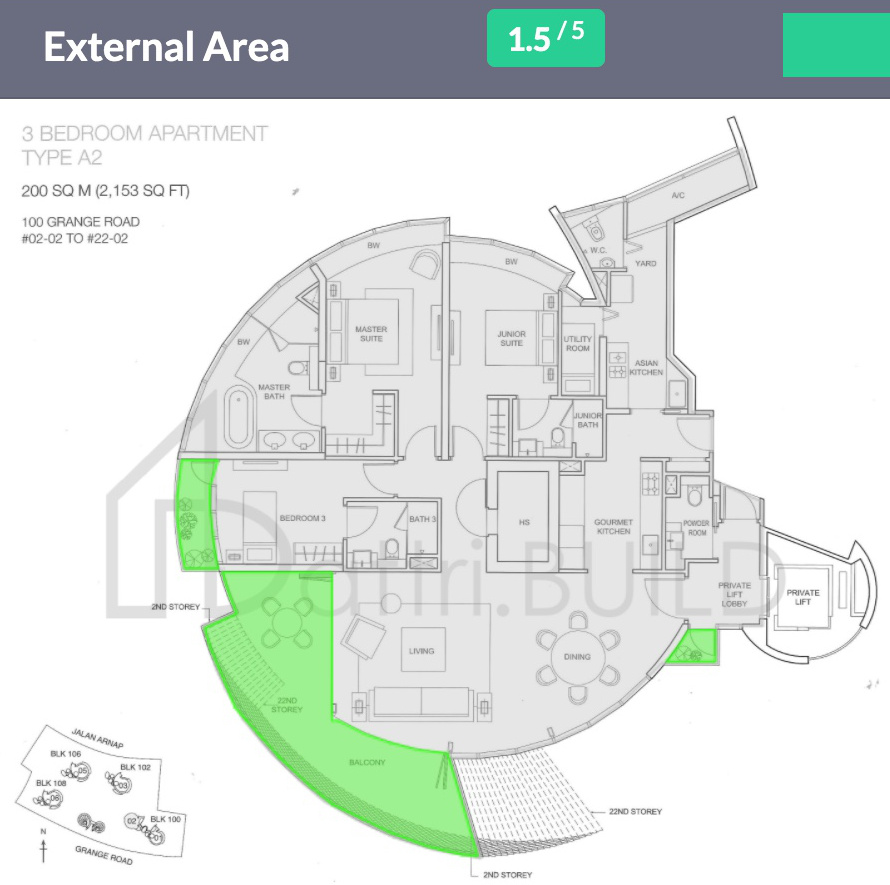 The main balcony space is connected to the living room. The shape of the balcony is almost an L-shape but still substantial for a 4 seater table and some lounge chairs. The main balcony takes up about 25sqm, occupying 12.5% of the floor area.
(*There is a small balcony for bedroom 3 and the private lift lobby, however the main balcony is still substaintial thus this Cliveden unit is selected here)
View the complete unit analysis here and here.
3.2. The Interlace — Type B5 & B6
B5–163sqm. 1755sqft. 11 units | B6–177sqm. 1905sqft. 13 units TOP 2013.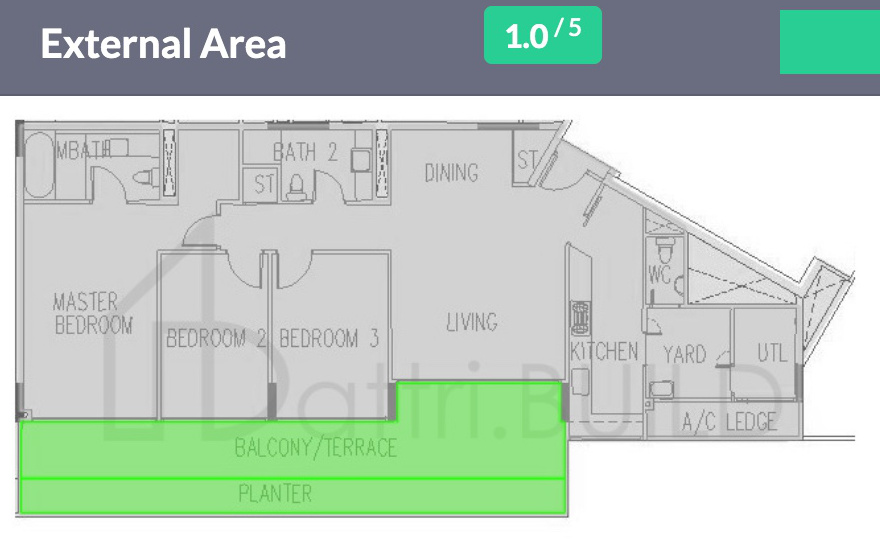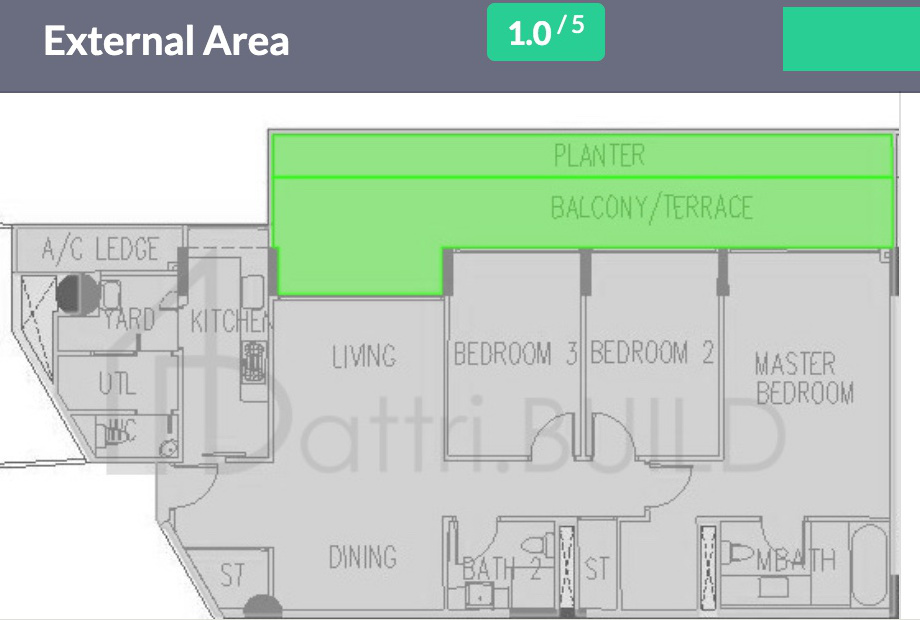 The B5 and B6 units at the Interlace are quite similar. The balcony stretches across the living room and the 3 bedrooms. It is long but narrow, except at the living room area which can fit a small long table.
The B5 balcony takes up 23sqm, the planter takes up nearly 12sqm. Together, they would occupy 21% of the total floor area.
The B6 units is similar at about 26sqm of balcony and 13sqm of planter area making them take up 22% of the floor area.
View the complete unit analysis here.
3.3. Seletar Park Residences — Type C1
120sqm. 1292sqft. TOP 2015. 24 units. Stack 13,14,19,20,25,26,31,32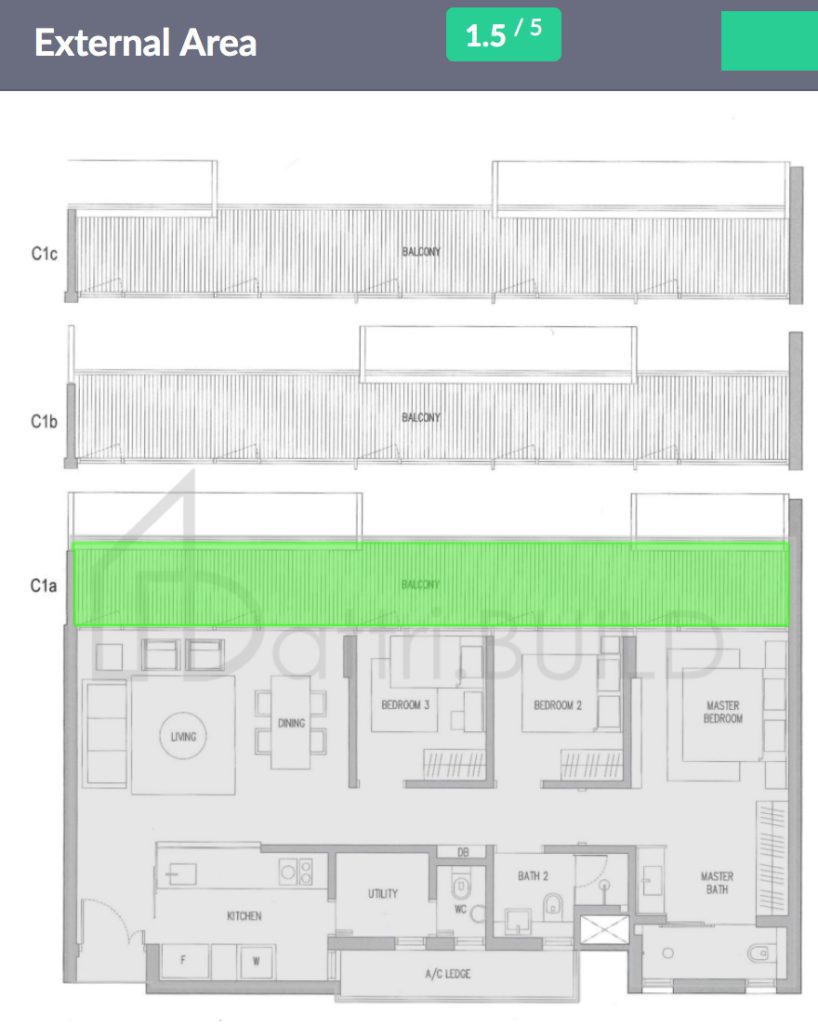 The type C1 unit has the balcony spanning the entire width of the apartment, this balcony is very long and can be assessed from all the bedrooms as well as the living and dining space. It is long at 22sqm occupying 18% of the total floor area.
Read the full report here.
---
Some like it hot, some like it cold…
Balconies are a subjective provision, some home owners relish an outdoor space while some prefer not to place their real estate dollars in an "open room".
Anecdotally, most Singapore buyers seem to avoid balconies, and prefer indoor spaces to escape from the tropical heat. So much that the authorities need to incentivise developers to provide balconies and also legislate to ensure that they remain open and users do not enclose them. However the market is also quick to respond with provisions like zip blinds which are able to provide a relatively tight enclosure making the balcony usable in inclement weather.
Thus if you notice in the Attribuild scoring system for "External Area", large outdoor spaces receive a lower score. This is how you would be able to filter out units with larger balconies, PES, or roof terrace if that is something you are looking for.
The 7% mentioned in the beginning of the article only came into effect in 2019. Thus you can expect that newer developments that TOP after 2021 would typically have smaller balcony area. This is something that you will notice as you use our site to compare unit pans.
We hope you find these insights interesting and beneficial to you especially if you are looking for units with larger outdoor spaces. If you are interested to find units with specific characteristics to suit your lifestyle needs, feel free to reach out to us at hello@attribuild.com
---
About Attribuild
Attribuild is a proptech start-up based in Singapore.
Attribuild has developed a patented system to analyse and evaluate floor plans to determine a unit's liveability and efficiency. With the Attribuild Score and Attribuild Rank consumers will be able to better decipher floor plans and discover nuances between developments to help them make better real estate decisions.
Do visit www.attribuild.com to find out more and like our Facebook page for updates.